My wish list for sunglasses is short. I want high quality glasses that look good, can replace my corrective lenses for outdoor activities and that won't break on me.
I had purchased some really nice frames and paid for some prescription lenses to be put in, but they honestly didn't have a good fit for my outdoors adventures and often were left stuffed in my glove box. When I was contacted by Guideline Eyewear to see if I was interested in testing out some sunglasses I was interested, although skeptical, from my bad experience in the past.
They claimed to be super-durable, good looking, high-quality polarized lenses designed for outdoor adventurers… oh and you could get them prescription too! I decided to give them a whirl and see how they held up.
I'm at the stage where I wear corrective lenses 85% of the time so while I can handle driving in a pinch without a prescription I definitely prefer the benefit of a prescription. It means I don't need to carry two pairs of glasses on the trail, one for sun and one for seeing.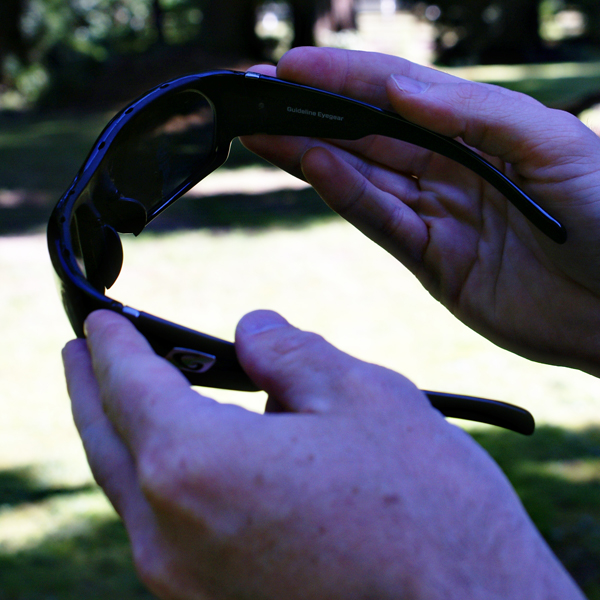 I opted for the Rx (prescription) version of their Eclipse glasses. They came in a variety of styles, color frames, lenses, lens tints and lens materials. I chose the shiny black frames with a Deep Water grey tint on the lenses.
When they arrived I was impressed with the look and fit. They blocked out all the light around the sides of the frames. Inside they boasted a comfortable rubber padding with vent holes to help with fogging.
I quickly put the polarization to the test with a couple of fishing trips. I got out on a float tube and was able to see through the ripples and reflections and even spot fish that would have otherwise been difficult. (For the fishing audience they also carry another line of frames: Fisherman Eyewear).
Even driving the car I find the reduction of sunlight reflection to be a huge help. I can see vehicles and movement much better now that I'm not distracted by light reflecting off the road, paint, and windows.
As for durability, I've taken them backpacking, left them in my pack, stuffed them in glove boxes and even given a few big bear hugs with them hanging in front of my chest.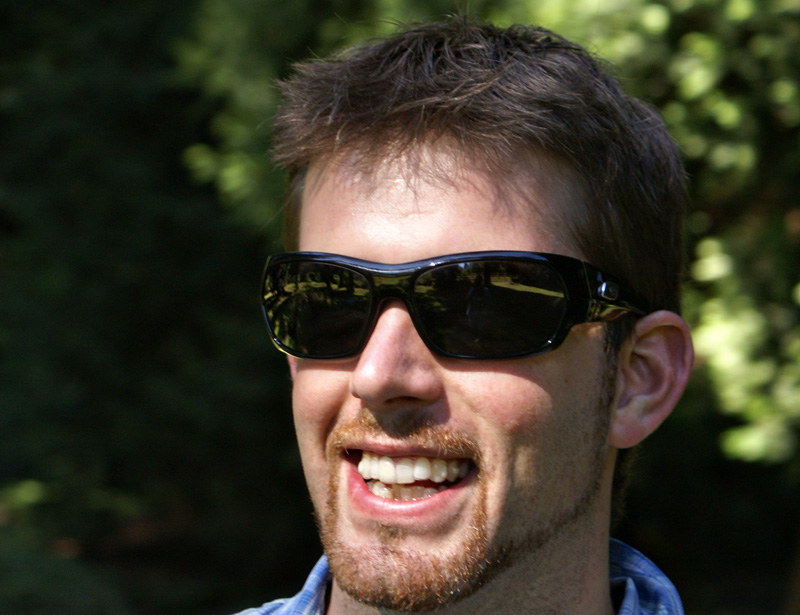 The only negative I've found is that they put some pressure behind my ears where the arms sit. The plus side of this tightness is that there's absolutely no movement or slipping when I'm playing sports. They are designed as active wear, so I don't see this as that much of a negative, but I do want to give a heads-up for those who find that sort of thing a problem.
All Guideline eyewear comes with a limited lifetime warranty. Here's the text from Guideline's site as to what that means:
All Guideline Polarized Eyegear products are warranted against defects in workmanship and materials for the lifetime of the product. This warranty does not cover damage from normal wear or abuse, such as scratched lenses. Guideline will either repair or replace, at our option, any pair of Guideline Polarized Eyegear product which is found to be defective. In the event the same model is not available for replacement, Guideline agrees to offer the customer the choice of the three most similar models (of equal or greater value) for the purpose of satisfying this warranty.
The Guideline polarized sunglasses cost $69 and their prescription polarized versions come in at $169. They're well worth those prices.

All in all, I'm really happy with my sunglasses and will update this article if there are any changes. I definitely would recommend checking them out if you're in the market for a new pair of sunglasses, prescription or otherwise.