After looking for 6 months for an efficient canister stove for the John Muir Trail I was recommended the Olicamp XTS pot and Vector stove. After a quick chat with Chris from The Gear House I placed an order and waited patiently. Right up front I'll say I was not disappointed.
The Olicamp XTS
The Olicamp XTS is a 1 liter (quart) anodized aluminum pot with built in heat exchanger fins on the bottom. It weighs in at 6.7 ounces with a lid and insulated handles. It can be purchased with or without the Vector stove.
My favourite part is that the  heat exchanger fins are protected by an aluminum ring. I have other heat exchanger pots and the one without the protective ring inevitably gets bent when I put it down (take note camping pot manufacturers).
The fins supposedly reduce boil time by 40%. Without an identical pot without fins I can't confirm that, but I can confirm that it does boil a liter of water in under 5 minutes. That's twice as efficient as my best alcohol stoves.
Most anyone with a heat exchanger pot will tell you that they are much more efficient. When you put the pot on the stove you almost immediately see a ring of bubbles where the heat exchanger fins connect to the pot. A lot of heat that would normally be lost to the sides is picked up by the fins and channeled into the pot.
One side benefit is that a canister will fit perfectly inside the pot.
The Vector Stove
The Vector stove is a 3 ounce stove with folding legs and an adjustable flow rate. It's basic but has some big benefits.
What I like most about the stove is the fine flow rate adjustment, I can simmer or boil without a problem. If you like to cook and not just boil water, this stove is for you. I have a Jetboil Helios system and while you can cook with it it's a big hassle getting the temperature just right.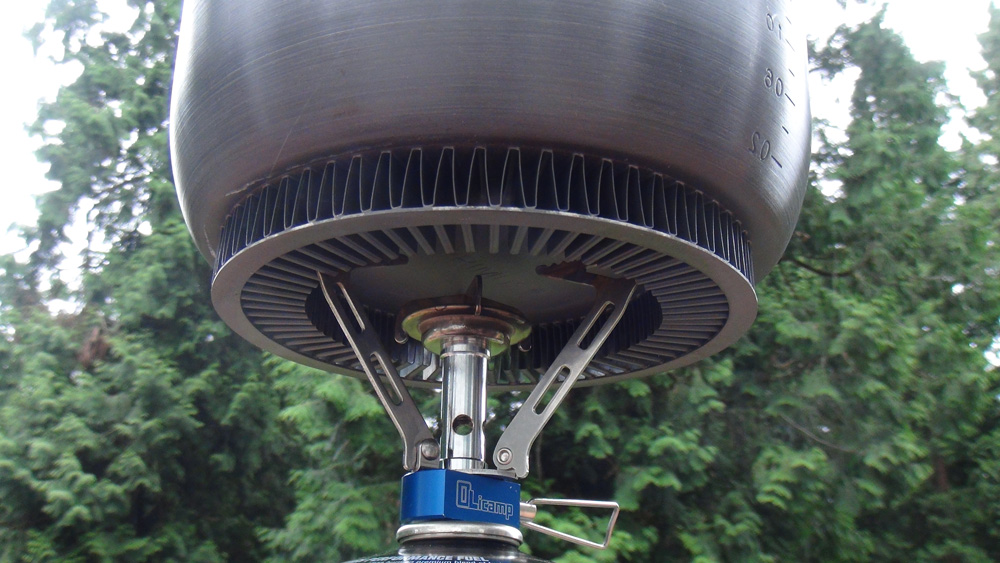 The Vector is designed to work with the Olicamp XTS. This is both a blessing and a curse. I bought a 2.1 liter Primus ETA pot for family camping and the legs are too narrow to rest on the heat fin protector. It works when you put the legs between the fins, but the stove legs turn bright red when you turn the stove on full.
There is no piezo ignition. This will make the piezo haters happy and the piezo lovers sad. Either way, there are no expectations so just bring a lighter and go.
A bit of a downer is that the vector will only fit inside the XTS with the mini canisters and not with the 8 ounce ones.
The setup is great for a solo hiker on a thruhike or anyone who wants an easy, no-fuss setup.
Olicamp XTS
Price: $26-30
Weight: 6.7 ounces
Dimensions: 4.5″ x 5.3″
Capacity: 1L
Vector Stove
Price: $26-30
Weight: 3 ounces
Dimensions: 2.75″ x 3.8″
Manual Ignition
Output: 10 800 BTU
The XTS and Vector can be purchased as a combo for $48.