Out on the western edge of the Olympic Peninsula you'll find a beautiful and untamed coastline just perfect for hiking with kids. It's a 9 mile loop that is divided into 3 equal distances. Both camps are on the ocean and the second day is a breathtaking beach hike offering amazing ocean vistas, petroglyphs and countless opportunities to explore.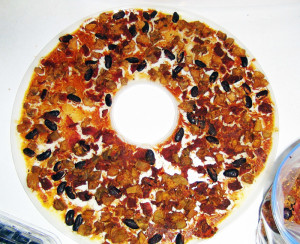 About six months ago we started planning our adventure with our four kids. That many pairs of legs everything requires more preparation, especially to keep it easy and fun for the kids. To that end my wife spent hours planning and preparing dehydrated meals and energy bars as I worked out the gear requirements and focused on lowering pack weight. This was our first endeavor as a full 6-person group and it presented many challenges. One of these challenges was that two of the kids wouldn't be walking.
Gear had to be kept to a minimum, especially our own clothes. Originally I tried to fit all our gear inside my Gossamer Gear Mariposa (a 70 liter pack) and my Gossamer Gear Gorilla (a 39 liter pack). If it hadn't been for the bear Canister (park regulations) I think we could have done it. As it was, the bulky canister that would hold food for six for three days took up half the backpack and I was forced to use my older and much larger internal frame pack as a second pack.
In the end, my wife carried all the sleeping bags, sleeping pads, snacks for the day and the amazingly light 5 lb family tent. I carried all the clothes, the bear canister, cooking supplies and eventually all the dirty diapers. We both had a child on the front, her with the 8 month old and myself with the two year old.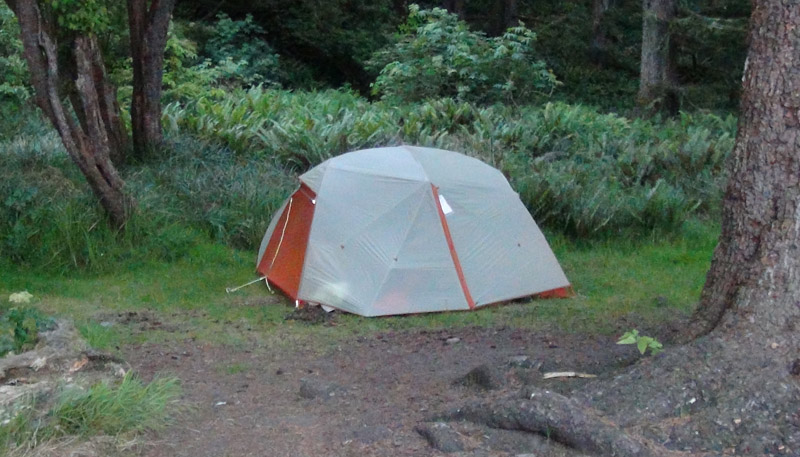 I knew the biggest challenge would be sleeping arrangements, so I took all the footprint dimensions, weight and internal height of all the 4-6 person tents on the market and then went to work. I marked out dimensions on the living room floor and organized our sleeping bags to see if they would fit. In the end I chose the Big Agnes Copper Spur UL4 Not only would 5 bags fit inside, there would be space for all our clothes and room to change almost standing up. Coming in at around 5 lbs there was nothing with bug protection that came close and that offered two vestibules for gear.
Our other big challenge was figuring out how to carry the two youngest. Carrying a child in the front is quite the challenge with a backpack… let alone a heavier backpack. Mostly it's getting both the pack and the carrier on. We had two separate carriers and each had to be loaded differently. The Onya was put on first, then the child and then the backpack. The Boba Air had to have the bottom strap attached, then the backpack, and finally the child and shoulder straps last. Neither was problem free, but by the end of day two we could get packs on an off with little confusion or complaint. That said, with food, gear and clothes for 6 PLUS a child/toddler, you can really feel the weight!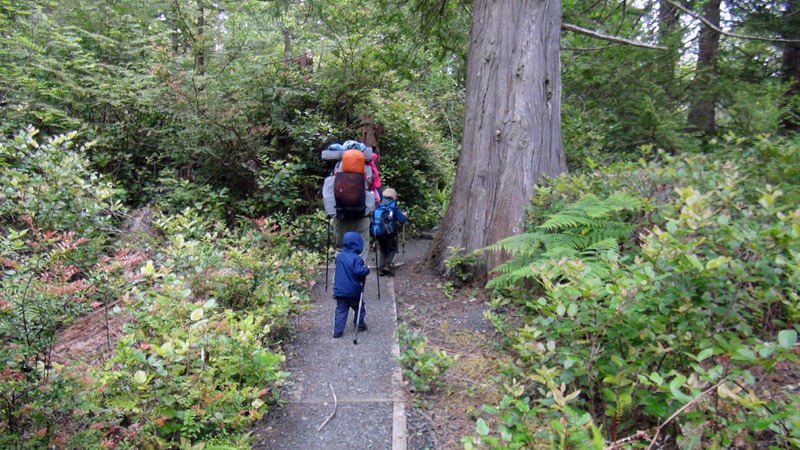 The kids carried their Deuter packs with just their sleeping bags, water, headlamps and small survival kits. The general rule of thumb is 1 pound per year of age. That meant our eldest carried about 7 lbs and the next eldest about 5. They were troops about it and we took plenty of breaks for snacks and water. It meant that we were on the trail for three to five hours a day, but we had plenty of distractions and activities to keep it fun.
We were really happy with the results and more importantly the kids had a great time in a beautiful area. Check out day one down below in the video. Stay tuned for a detailed trip report and part 2 of the video.
Have you hiked with kids? What were your best/worst memories?