Although there are a lot of camping mattress manufacturers, there are few that seem to master their market. Klymit is one of those companies that does it right, and the Klymit Static V is a great example of this.
The Static-V is Klymit's entry-level inflatable mattress, but don't be deceived by the price, it's performance is excellent.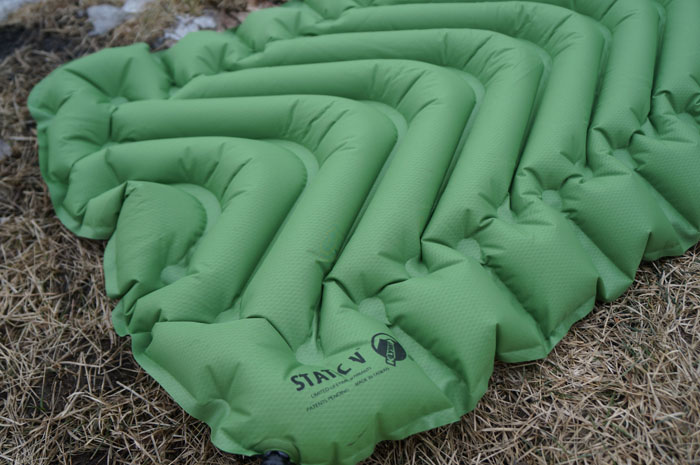 Let's start with a look at the specs and move on to my thoughts.
Weight: 18.1 oz,514 g
Dimensions: 72″ x 23″ x 2.5″,183 cm x 59 cm x 6.5 cm
Type: inflatable Sleeping Pad
R-Value: 1.3
Packed Size: 5″ x 9″, 12.7 cm x 22.8 cm
Includes: Stuff Sack, Patch Kit
Fabric: 75D Polyester
Warranty: Limited Lifetime
MSRP: $59.95
I've tested this out for close to a year now and have yet to find a fault with it. You will be hard pressed to find a comparable air mattress that offers the quality and comfort of the Static-V at this price-point.
Klymit is big on "body mapping", that's their concept of making sure the padding is where you need it, while balancing the mount inflation needed and the overall size of the pad. This pad packs down to the size of a nalgene bottle,  takes no time to inflate (in 10-15 puffs) and it is incredibly comfortable. In three-season conditions it provides plenty of warmth, while not being overly heavy (18.1 oz is better than the majority of pads on the market.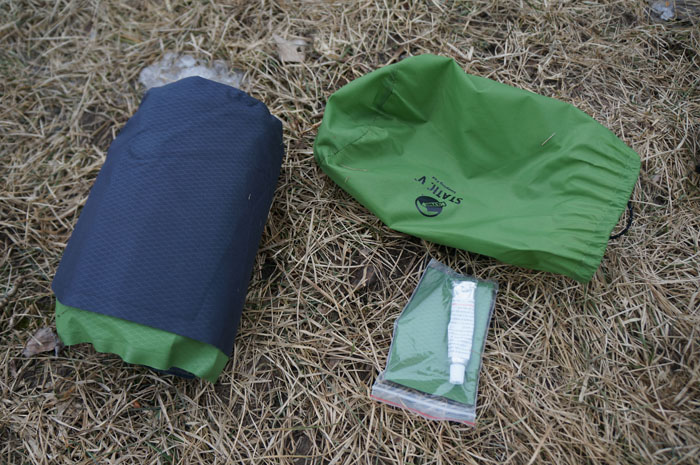 I was a bit worried about the 75D polyester for puncturing, but after many nights it has held together without issue. If it does leak, the included patch kit will take care of any leaks.
I can't praise Klymit enough for this far too cheap (in my opinion) inflatable sleeping pad that's packable, comfortable and lightweight. Competitors products are 2 to 3 times the price.
Check Klymit products out here on amazon (affiliate link).
Disclaimer: I requested this item to review via a PR company, but all reviews are the same as I would give to close friends or family.