Ok, I'm a convert. Having spent close to thirty nights sleeping in my DoubleDeluxe Hammock by Eagle Nest Outfitters I'm officially in love with hammocks.
Over six months ago I received a massive DoubleDeluxe hammock from Eagle Nest Outfitters to test out. After extensive testing indoors, in the backyard, at the campsite and on the trail, I can highly recommend it as a heavy-duty, couple friendly, family-and-friend-proof alternative to spending the night (or even the afternoon) on the ground.
Let's look at the features and then talk about the performance:
Heavy Duty Triple Stitched Seams
Breathable, Quick Drying Nylon
Built in Compression Stuff Sack
Aluminum Wiregate Carabiners
400lb Capacity
Weight: 26 oz
Dimensions: 9' 4" x 8' 4"
Packed size: 4" x 5"
MSRP: $84.95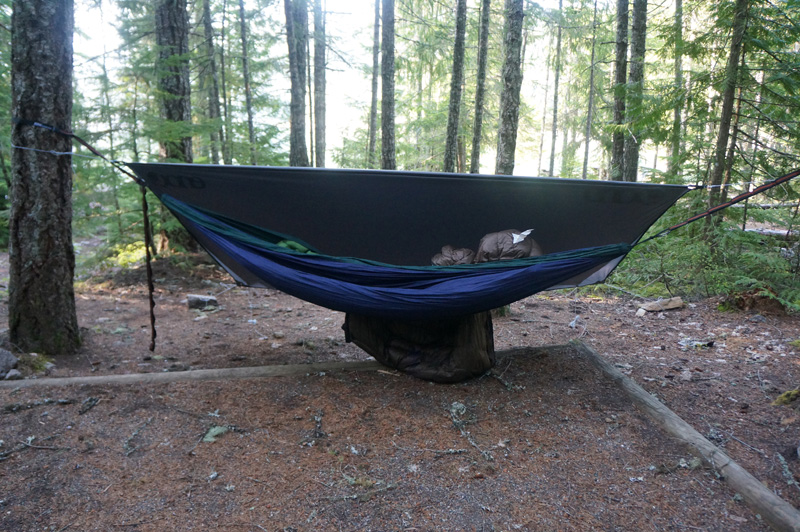 Testing:
After receiving the hammock, I set up two hooks into my office walls (home office) so I could take breaks and spend nights above ground.
When it wasn't there, it came with us car camping (where my wife and I chose it over sharing the tent with the kids), in the backyard, and most recently on a 3-day backpacking, packraft adventure in the Pacific Northwest.
The gathered ends mean that I can lie almost completely flat and sleep comfortably on my back, side and even stomach.
Most recently, I've had it set up at our new house so I can spend the nights while I do renos.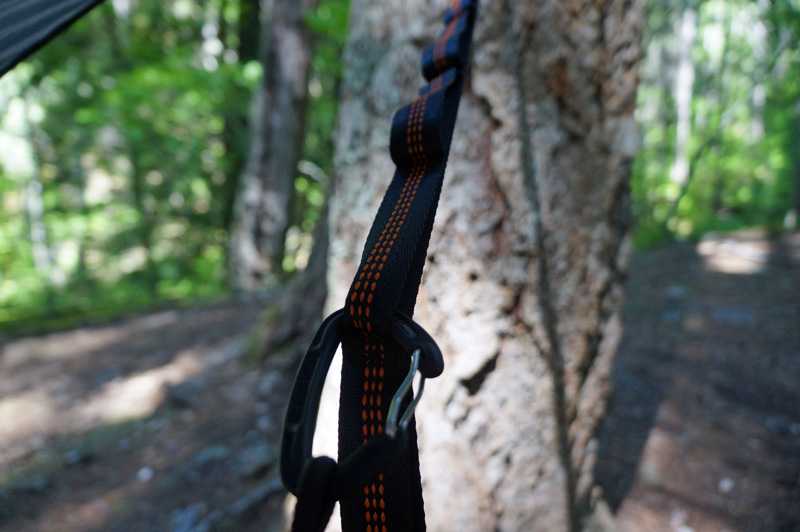 Performance:
The DoubleDeluxe is rated at 400lbs. I am not 400 lbs. My wife is nowhere near that mark. However, when you put both of us, plus a few of our kids you come out to that amount. The hammock, although a bit packed, managed just fine. The wall hanger I bought at Home Hardware didn't fare as well. One of them bent! It's pretty impressive when a steel wall hook bends and the hammock stays up! The triple stitching and wiregate carabiners show no signs of suffering.
Another benefit to the massive size of the DoubleDeluxe is that you can wrap yourself up burrito style and keep the bugs way (which I've successfully done on more than one occasion).
A few brands are sewing on a stuff sack to their hammocks, because frankly, it's a great idea. I use mine to keep my smartphone in (it doubles as my 5:30 am alarm clock), and to protect my glasses.
I haven't seen any others that are equipped with compression straps. Granted, you won't need it on a single hammock, but when you're dealing with something a bit larger like the DoubleDeluxe, it can save you a couple square inches of pack space.
It's hard to compare the $84.95 price tag with other hammocks as the DoubleDeluxe is over 2 feet wider than other double hammocks (including their own DoubleNest – $64.95 MSRP). As with any product we'd like to see it cheaper than it is, but you're getting a lot of high quality, heavy duty hammock for that price.
If you're going to pick it a DoubleDeluxe, or any other hammock, make sure you get a nice set of tree slings, like ENO's atlas straps, a set of straps designed to make your hammock hanging quick and easy.
What do I think?
The ENO DoubleDeluxe is a great family hammock for relaxing in the backyard, while camping and indoors. The kids love it and we don't worry about it falling or breaking, even when all four pile into it. It's portable and lightweight enough to hide in your pack for a relaxing day-trip or overnight adventure, or stow in your trunk for those unplanned micro-adventures.
So, have you ever spent the night in a hammock? Do you have any questions or tips? We'd love to hear from you in the comments down below.
-Paul O
The Outdoor Adventure
Are you interested in Hammock gear? Feel free to support us by shopping through this amazon affiliate link. Shop Eagle Nest Outfitters on Amazon.