I love tarps. If I'm going on a day-hike, to the beach, backpacking, car-camping, canoeing, or snowshoeing, I will always have a shelter with me. It doesn't matter if there's sun, rain, wind or snow, or simply the possibility that we'll be spending the night out, a tarp will handle all of those things. My most versatile, durable and functional tarp came to me by way of Eagle Nest Outfitters. It's the Flexfly.
Last year I received the Flexfly Utility Tarp to test and I've been putting it to some long-term testing over the past year.
The Flexfly utility tarp is  great for hammocking and much more. Over the past year, this tarp has been a constant companion on my outdoor adventures because of how versatile it is. Let's take a look at the features to see why and then let's talk about what my opinions on it are.
Material: 210D Nylon Taffeta w/ Poly Urethane coating
Includes 2 50″ collapsible aluminum poles
Dimensions: 10′ 6″ x 10′
Catenary cut
Stuffed size: 14″ x 5″
6 attachment points
Hammock compatible
stitched and taped seams
line locs
guy line
includes zippered carry case
(stakes not included)
weight: 3 lbs w/case and poles
weight: 2lbs 1 oz w/o poles
MSRP: $134.95
Keep reading and check out the video below to see it in action.
How did I test it?

Over the past year, I've used this tarp in the backyard, car camping, backpacking, and on day trips. In addition to its regular use, I've used it to make a kiddy-pool in the backyard (it performed very well).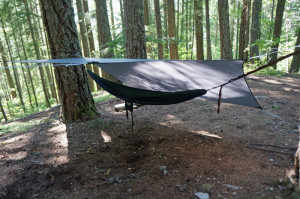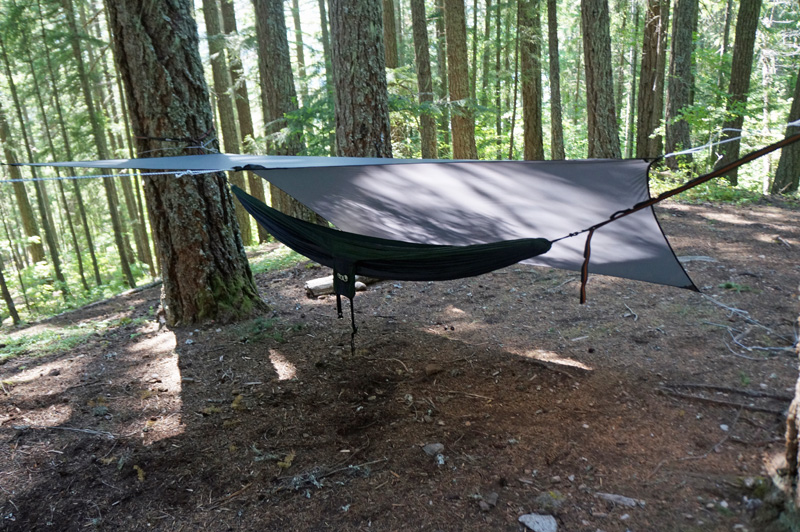 What are my thoughts?
The Eagle Nest Outfitters Flexfly is correctly identified as a "utility" tarp. It's tough and ready to handle what you throw at it. The 10-foot by 10-foot-six dimensions are plenty for a family and gives lots of coverage for a hammock and plenty of space to keep sun, wind and rain off you and your gear.
Set up is a breeze because of its catenary cut. There's a lot of science to the catenary cut of a tarp. In at nutshell, it makes it really easy to tighten up the tarp evenly without having to re-adjust the tension on all the other guy lines. If you have the choice, always choose a tarp with a catenary cut.
The fabric, stitching, seam, grommets and poles are built for durability. A taught tarp is a must for high winds and heavy rain and to get that you really have to have taught lines. I didn't feel I had to be gentle when tightening the guy lines to the point of a high pitch hum when I plucked them.
The inlcuded 50″ aluminum poles are a nice feature for set-up when there are no sticks, branches or trees on-site and you want a good view from under your shelter. They'd be perfect for the beach, or other festivals. When I'm concerned about weight though, I leave them behind and they shave off a pound.
The line-locs are a great feature that allows quick adjustment of the tension after it's set-up, without having to re-tie nots.
It's great for a large hammock shelter, but provides good coverage as a picnic table shelter, as well as an emergency shelter, picnic blanket or tent alternative.
This is definitely something to keep in your trunk for impromptu adventures.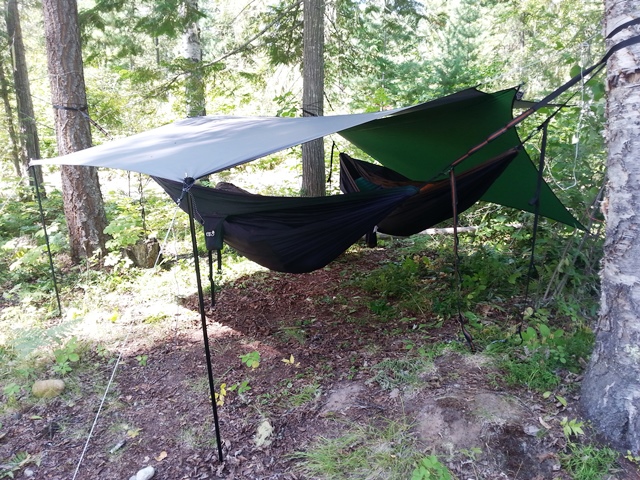 What improvements could be made?
Although this is an excellent tarp and great for all your outdoor adventures, I always look for areas of improvement.
Although the guy-line works just fine, I'd like to see a smoother, less-stiff option.
I'd also like to see a set of stakes included with it (Eagle Nest Outfitters does sell easton tent stakes). I use a set of Mountainsmith v-stakes with mine.
Conclusion
The Eagle Nest Outfitters Flexfly utility tarp is a great all-round tarp. It has a lot to offer, works great as a campsite tarp, with a hammock or in pretty much any situation where you need a shelter. ENO puts a lot of thought and high quality into its construction and it paid off.
It's an excellent hammock tarp, but also great as a stand-alone shelter for camping, canoeing or festivals/picnics as well.
If you are in the market for a versatile, high-quality tarp, definitely check it the flexfly out. You won't be disappointed.