When out and about, whether in the wilderness or not, there are some items that we like to keep on our person at all times. A sharp knife is often one of those items (for me at least) which can be indispensable to have when prepping meals as well as dealing with the small sticks needing preparation, zip ties and wrappings that are frequently encountered  on outdoor adventures, work, and children's toys. The trouble with knives though is that some are a bit bulky for everyday use, and some multi-tools are either heavy or don't cut all that well.

For those who really just want to have a simple blade at the ready for whatever life ends up tossing you, then the Vargo Titanium Wharn-Clip knife may be the knife for you. This knife weighs in at a minuscule 1-oz total (0.7oz knife and 0.3oz sheath) and features:
A wharncliffe shape to the point (see the sidebar)
A straight edge single bevel cutting blade
A titanium alloy construction that is harder and stronger than pure titanium.
MSRP: $59.95
The Wharncliffe blade, not to be confused with the sheepsfoot blade, is very much like a standard blade shape turned upside down. This type of blade has a totally flat cutting edge, and the spine of the blade drops gradually until the tip forms a point.
source: http://faq.customtacticals.com/geometry/shape_wharncliffe.php
At 5.4 inches long, it is only just barely longer than a somewhat average smartphone, while being decidedly thinner.
This knife has a lot going for it, particularly when it comes to the blade. At 2.7 inches long, the blade occupies half of the knife's length, giving you a solid amount of straight edge cutting surface. The knife edge is incredibly sharp and I managed to nick myself on it at least once. As a result, cutting through food was absolutely no trouble at all, with the knife easily cutting though a good size steak along with various fruits, vegetables and bagels. On the top surface the knife's blade tapers into a point giving it a 'wharncliffe' shape more gradual than other shapes. The benefit here is that you can comfortably put you thumb on top of the blade for leverage, giving a decent amount of control when creating marshmallow sticks or getting kindling ready for a fire. The point itself is perfect for foods with tough skins such as avocado as well as being able to get the blade into tight spots where zip ties are conveniently placed on electronics and children's toys.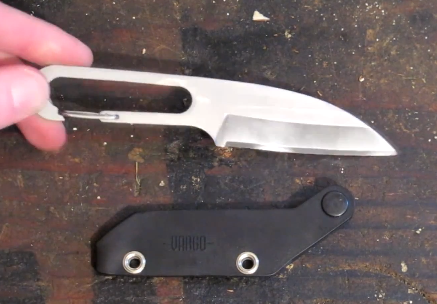 This knife does make a couple compromises to the handle to deliver its low weight and profile. It feels short in my hand and while you can use the sheath to extend the handle out a bit, it's still not the 'perfect' feel and might even pose a challenge for those with larger hands. The lack of material on the handle is also affects the comfort of the knife. As a whole, while these compromises do make the knife a bit more difficult to handle, I am prepared to accept them given the enhancement to the knife's weight and pocket profile.
I only have one proper gripe about this knife. Given that this knife is branded the 'Wharn-clip' knife, the clip itself has no appeal to me. I don't really want a knife hanging (swinging) from my pants or pack, and a 5.4 inch knife doesn't fit well on my key-chain. Finally, I found it easy to pop the clip off, almost without thinking. The best place for this knife is the front pocket, and that's where it was.
The sheath does its job simply and dutifully. Vargo smartly places the rivets of the sheath so that the blade itself will not cut through the sheath, and has a good thickness to it to feel confident that you won't stab yourself on accident. The sheath's construction is a single piece of Kydex folded in two, and there is a small section where the blade can be pulled out without having to remove the sheath. However, realistically it takes a lot of effort to get the blade out through the gap. From a parent's perspective, it reinforces the wise council to not leave the knife out where children can get at it.
In review, I found this to be an excellent general purpose knife that is easy to have with you when you need it. With an incredibly low weight, a slim profile, and the versatility to handle the small stuff with ease, this is the perfect knife to have in your pocket with minimum bulk.There is a large group of people out there who would benefit greatly from the Vargo Titanium Wharn-clip knife. If the most important item on your multi-tool is the knife, if you want to be able to carry a knife without looking like you're carrying a knife, or if weight is the most important factor you are considering in a knife, then this is definitely a knife worth your consideration.
by Graeme A.
Disclosure of Material Connection: I received the Vargo Titanium Clip Knife for free from Vargo as coordinated by Deep Creek Public Relations in consideration for review publication.
All opinions are those of the reviewer and reflect our honest thoughts and what we would recommend to friends and family.