Meeting up with friends at night, on a trail that I had never been on, without a map and with only a marginal idea of what I'm looking for… What could possibly go wrong?
I'd just arrived in Washington from Bolivia (where I had lived at around 10000+ feet for a few years) and was eager to go hiking. I was training to hike the John Muir Trail later in the summer, so this would be a test of how easily I could chew up the miles.  The rest of my buddies had headed up to the site the day before as I had literally just arrived back and was booked into a trade show for the morning.
The plan was to meet up with them on Saturday evening for the last night, before heading out on Sunday. It was a short trip, but I'd at least get a bit of time outdoors.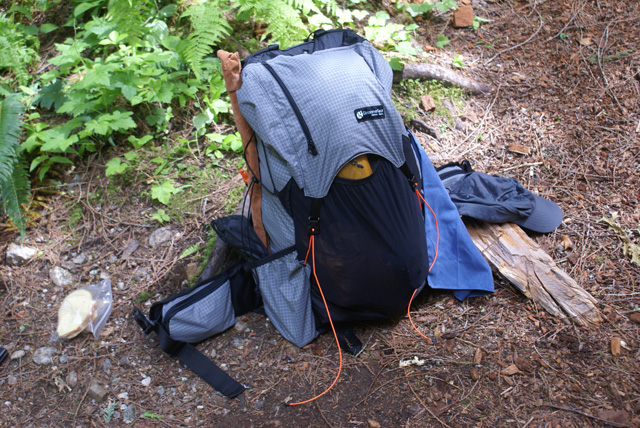 The huge benefit of living at altitude is that your body is adapted to functioning on very little oxygen. Once you get to sea level, you feel unstoppable, full of energy and ready to conquer Everest.Add to that my lightweight pack and you might get how I was able to literally skip up the trail (even jogging a few times).
I should probably mention that I hadn't been on the trail before. All I knew was that my friends were hiking about 3 miles up the trail, which I figured would take me about an hour and a half.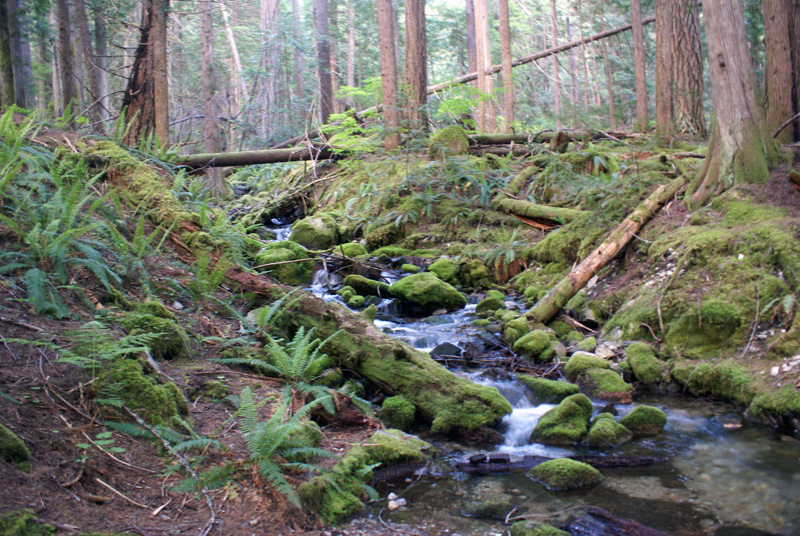 So, at about an hour into my jog I started looking for a bright tent, or maybe some smoke that would indicate that I was getting close to my friends. Seeing none, and worrying about the setting sun, I improved my paced and leaned into my trekking poles.
Finally, about an hour and a half into my adventure I saw people. I waved, and they waved back! Unfortunately, they weren't the group I was looking for. I went from campsite to campsite hoping… and expecting to find them.  After stopping by and meeting everyone, from the friendly smokers (who were clearly taking advantage of changes to Washington state law), the young couples, the out of shape ultralight backpackers and the noisy Boy Scout troop, I realized that this wasn't the campground I was looking for. The name wasn't even right McCallister camp? I think I'm looking for Neve camp. Finally, I was informed that I was around 7 miles up the trail, having arrived there in less than two hours. My destination was 4 miles back down the trail.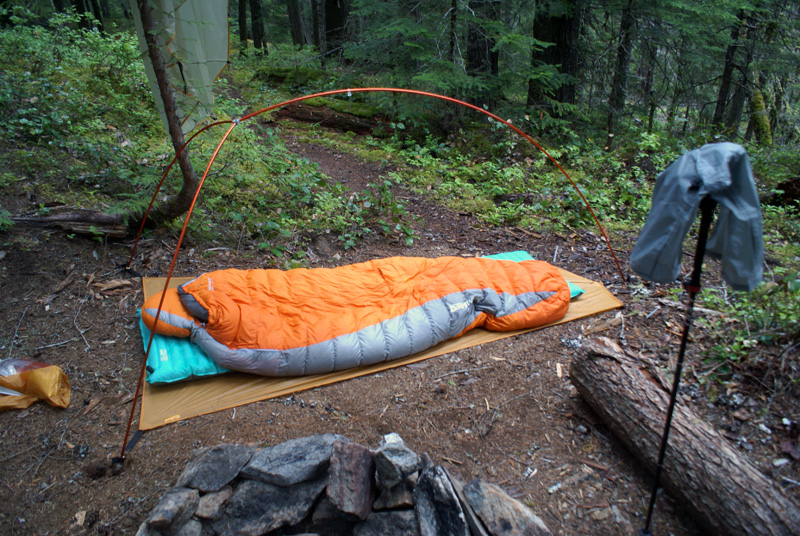 By then, there was light enough to set up my tent, but not enough to hike back down the trail and find my crew. Resisting the urge to set up camp in the dark, I chose a quiet site overlooking a beautiful, snow fed river and settled in for a good night's rest.
In the morning, after a nice, hot breakfast I packed up and hiked back down the trail, this time with eyes out for any indication of camping. Finally, 45 minutes back down the trail I saw a clearly marked "camp x" sign within an arm's length of the trail I walked up the previous day. Not only that, on the ground my name had been drawn with an arrow indicating which way I should have gone.
You can't help but feel a bit sheepish when you are supposed to be Mr Outdoor Adventure. Especially when you've been working on your excuse for why you didn't show up for 45 minutes and the best you can come up with is, "I didn't think 3 miles was a big enough challenge!"
As I sat down with my cup of tea, waiting for the crew to get up I thought over my rookie mistake and feeling rather embarrassed. I looked across at their tent and a smile formed on my face. My friends had gone to bed the night previous with the bear spray OUTSIDE of the tent, and an open bag of beef jerky INSIDE the vestibule…  I shook my head and chuckled to myself, "I guess it could have been worse!"
What silly mistakes have you made on the trial, but were able to laugh about after later?
Check out more "Outdoor Mistakes" on the Sierra Trading Post's blog here: Mistakes in the Outdoors.