Last summer, I was looking for a lightweight, compact headlamp that I could trust for the two weeks that I'd be on the John Muir Trail, so after some testing I took Pelican's VB3 2220 LED clip lamp. It's a minimalist, no-frills, backpacking duty lamp with a seemingly eternal battery life.
We all know the Pelican brand. It's tough, work-duty reputation for reliability has been earned and that reputation extends into their flashlight brand. The VB3 is no exception to this.
Let's take a look at the features and then break into my experience with the VB3.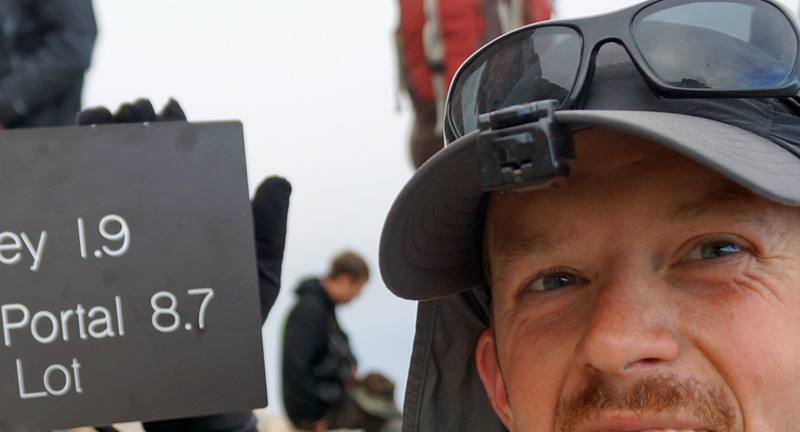 2 super bright white LEDs
9 Lumen light output
Beam distance: 12M
Peak Beam Intensity 38cd
10 000 hour lamp life
180 degree flip-up head (that doubles as a switch)
Built-in clip (grabs up to 0.5", great for hats)
Length 3.5"
Takes 2 CR2032 lithium batteries (included)
Runtime: 34 hours
Weight: 1 oz (with batteries)
Xylex Polymer Resin
Water resistant
Best Price found: $14
Comes in yellow, black, and a multitude of other colours.
Testing
As stated before, I tested this for 2 weeks on the John Muir Trail, including through late night calls of nature, rain storms, and the before-dawn climb up to Mount Whitney. I also took this on many other backpacking trips, day trips, camp-outs and canoe trips. I've had it for over a year and still reach for it when weight and space are at a premium.
What do I think?
I'm incredibly impressed with this low-cost, low-weight, portable, high-quality headlamp.
Brightness
The VB3 is not a super-powerful headlamp (like its big brother the 2720). Its twin LEDs put out a low 9 lumens. Those lumens are sufficient to light up your tent, get you to the bathroom in the middle of the night and even navigate the trail. If you want more lumens (a brighter light) then you need to compromise with weight (batteries) or battery life.
Battery Life
Because of its 3V battery sipping, the Pelican's two CR2032 Lithium batteries can give you 34 hours of light. To give you an idea of what that means, I never had to change the batteries during my John Muir Trail through hike, even though we finished with an early morning, pre-dawn summit of Mount Whitney. In fact, I took the headlamp on a couple more weekend trips before having to change the battery.
Quality
Pelican made this headlamp out of a Xylex Polymer resin. What does that mean? Well, er… I don't know, but I do know that I've beat it up pretty well and hasn't taken any damage. The potential weak spots are the 180 degree hinge which turns it on and off allows you to angle the light, and the attachment clip. Despite being sat on, stepped on, having been dropped, being jostled around in the bottom of my backpack and being exposed to rain storms, hot days and snow storms, this thing has not quit. Sure, it has scratches, but it keeps ticking. This thing is another testament to Pelican quality.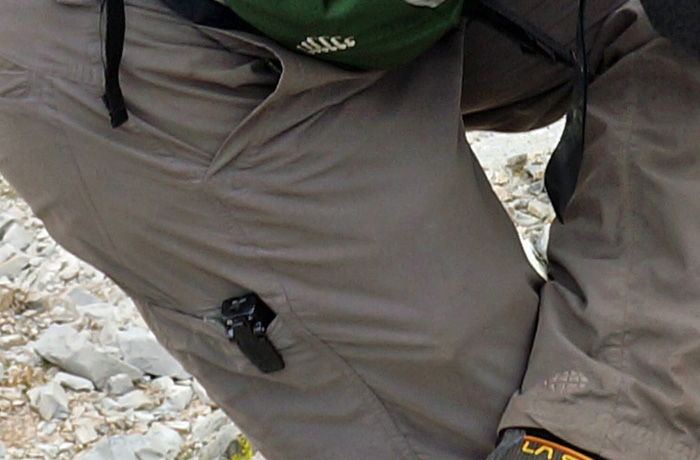 Weight
Having scanned through many "ultralight" backpacking posts, I've seen "ultralight" headlamp weights between  1.7 and 3.5 ounces. I'm sure there are comparably weighted headlamps, but it's hard
Ease of use
This is a no-frills device. There are no buttons. There's a clip to attach it to your hat/backpack strap/pocket etc. and a 180 degree swivel head that acts as the on/off switch. The swivel locks shut with pressure (and a *snap*) so it is highly unlikely to pop open in your pack (it has never happened to me).
The 180 degree hinge is great for switching between farther away targets and close-up work with your hands.
The only hassle is changing the battery. You need a small screwdriver to change the batteries… something that one rarely has to do. I always carry a leatherman squirt PS4 and that hasn't let me down… either.
One thing that you should note is that the light turns on as soon as you start to open it. When it's clipped to your hat, make sure it doesn't blind you as you swing it open.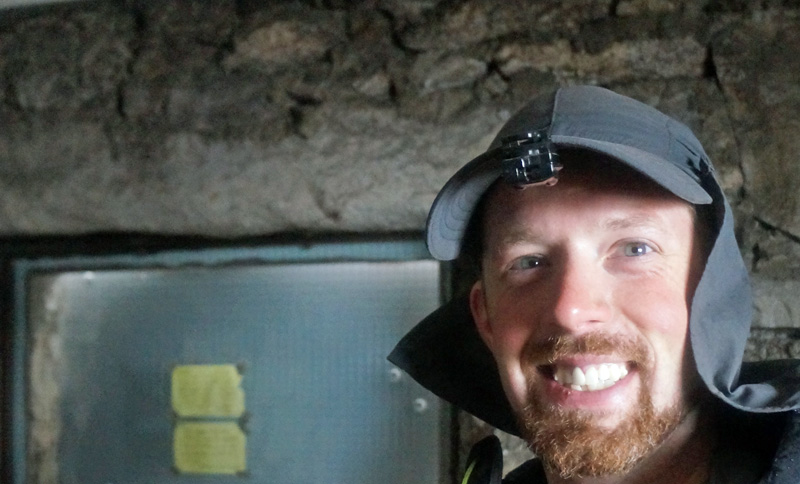 Conclusion
The VB3 by Pelican is a great, truly ultralight headlamp. The battery life is truly impressive, the durability is excellent and the weight is phenomenal. It's brightness, while not overly impressive, is sufficient for my backpacking needs.
I'm extremely happy with this little light and keep coming back to it for all my lightweight backpacking needs.  It's hard to believe they can pack in so much headlamp for the price.
So, let us know, have you tried any of Pelican's flashlights? Did you know that they made them? What's your favourite lightweight headlamp?
disclosure: I received this headlamp from Pelican for review. All of the opinions are my own, and what I would recommend to family and friends.