I honestly thought I'd use my tyvek ground sheet once or twice a year tops, which made it a hard purchase to make (even at $15). It turns out to have been one of my most used pieces of gear and best investments.
Last summer I bought a 4′ x 8′ Tyvek ground sheet on amazon. I picked it up so I had something light and durable to go along with with my sil-nylon tarp for lightweight and ultralight backpacking.
It's really a simple piece of gear. Tyvek is housing wrap used as a moisture barrier. You can but it by the roll or as I did, pick up a pre-cut, pre-designed for the purpose ground sheet. It has four loops, one in each corner, that are very sturdy and hold up to a lot of abuse.
Whenever I go out on a family trip, be it a day at the park, a short hike, or a beach trip it comes along. It only weighs 7 ounces with my attached guy lines and can be folded or rolled up (rolled up it's about 12 inches long and 2.5 inches wide). I chuck it in my pack with 4 tent pegs and forget about it.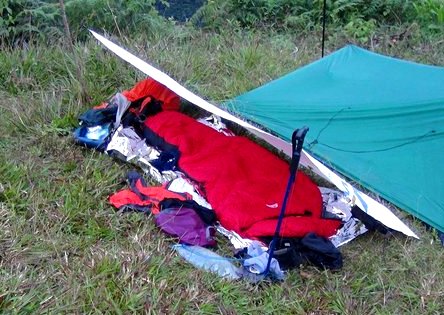 Here are some of the things we've used it for:
Picnic Blanket – It's a good place to prep food, and clean up after the kids have been playing

Wind block – It can be set up vertically to ward off breezes while eating or cooking
Tarp – All the kids have hid under it when a surprise rain storm started up.
Lean-to shelter – On a recent backpacking trip I used it with a mylar blanket as my UL shelter. It worked really well.
Oh, and one more thing, it does a pretty good job as a ground cloth too!

The only downside is that the edges don't hold a straight edge after a lot of use. It's hard to peg it tightly, but it really hasn't been a problem.

Oh and when it's all done it's easy to wipe down with a wet cloth.
Do you use Tyvek? What do you use it for and have you found to be a good purchase?