I find myself using my many different water bottles for different uses. If I want something that won't leak, I can grip easily, drink from with spilling, and don't want the weight of a backpack, like when I'm out running or if my toddler wants his own water bottle, I usually reach for our Hydrapak Softflasks.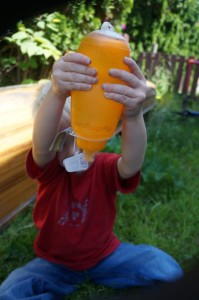 The Hydrakpak Softflasks come in several different capacities (150ml, 250ml, 350ml, 500ml and 750ml). I typically reach for SF500. I prefer it over the larger SF750, because it's easier to handle, even though it's only 2 cups worth of water. That said, my husband likes using the SF750 for runs, or when sharing it with the kids.
The bite valve works great, but does get damaged – ours got damaged after our older kid chewed on it for an extended period of time. That said, we've had similar things happen with pretty much all the valves on our water bottles, regardless of the brand. Fortunately, it does have a secondary lock which eliminates any potential leaking.
It's a bite valve, so it's not the nozzle to choose if you want to take great big gulps. It's for no-spill.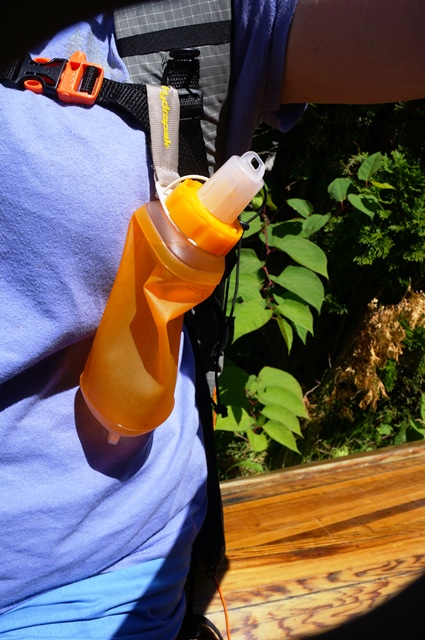 Features:
Bite valve
Secondary twist-lock
Flexible, thermoplastic polymer construction
RF welding
BPA Free
Dust cap (connected with an elastic)

Webbing loops and attachment points for running or storage.

42mm Wide-mouth screw top
Weight: 2 oz (for SF500)
Dishwasher safe.
MSRP: $12.99 (SF150) to $20.99 (SF750)
Pros:
No-mess drinking, even when lying down
Collapses into a fist-sized lump

Does. Not. Leak. when the lock is in the "closed" position.

Different size flasks for different needs; interchangeable tops.
Flask mouth wide enough for ice cubes.

SF 500 easy to grip in hand and drink from, even when out running.

Does not slosh and bounce like hard-sided bottles.
Feels comfortable against body.
Plastic is soft and almost noiseless, unlike other plastic soft-bottles (like the Vapur Element, for example.)
Cons:
Plastic taste in the water for the first few uses.
Silicone nozzles do not withstand chewing (but, amazingly, the bottle is still functional even if damaged, because it does not leak if turned to the "closed" position.)
Bite valve is not easy to clean thoroughly by hand. (Does not disassemble into components that can be cleaned with a bottle brush. Try cleaning it by squeezing vinegar solution through the valve several times.)
Secondary lock is challenging to open and close one-handed.
If you freeze the bottle, do so with the twist-lock unlocked. We broke one of our lids by trying to twist it open while it was frozen solid. They are technically freezer safe, but as with any frozen plastics, be careful!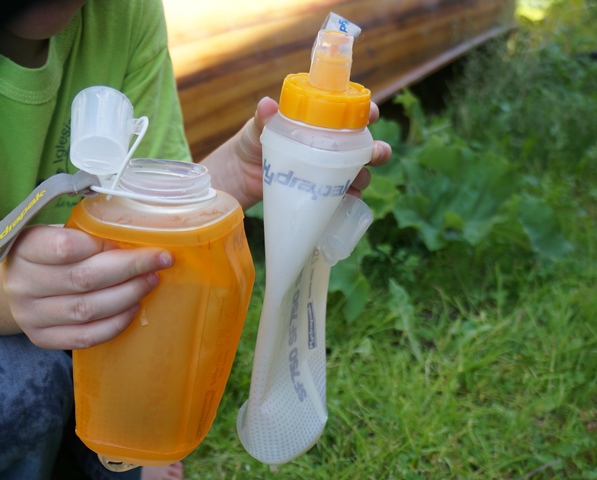 Conclusion
This bottle stands out from the crowd for its comfortable grip and feel, and spill-proof valve system. It's a go-to bottle for keeping everyone in our family hydrated while backpacking, running and in all our summer activities.
Be wary of letting kids chew on the nozzles. I'm looking forward to the day when bite-valve silicone nozzles can withstand extensive use and maybe even a good chew.
Do you have a silicone bite valve system that has lasted through extensive, heavy use and/or use by kids? We'd love to hear your thoughts in the comments below.
– Naomi Osborn
The Outdoor Adventure Team
Disclaimer: We received these Softbottles for review, free of charge. All opinions are our own, and what we would recommend to friends and family.