If you're looking for an easy to read book to satisfy your survival and homesteading skills I recommend you take a look at Tim MacWelch's book: "Prepare for Anthing: 338 Essential Skills" published by Outdoor Life.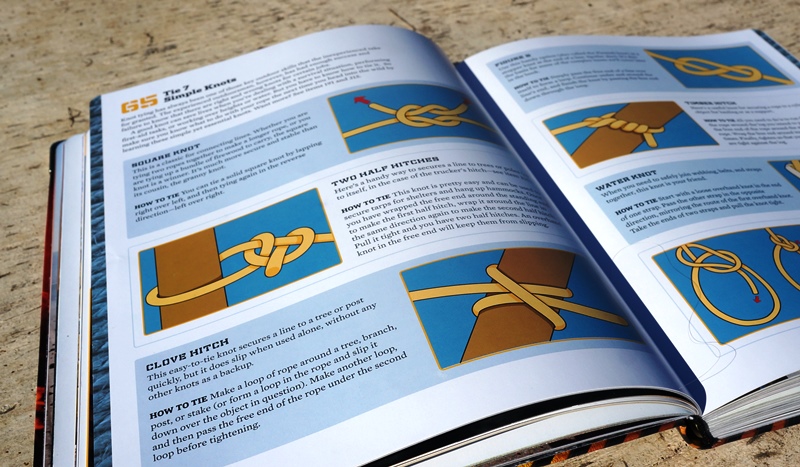 This full colour book (available for kindle, in paperback and hardcover editions) offers 338 "essential skills" that are supposed to prepare your for anything. The topics range from choosing the right outdoor vehicle to escaping from armed robbers to understanding which garden vegetables to plant to preserving foods to trapping animals… and more. While some of the scenarios will likely never happen to you, it's an interesting and informative read that offers literally hundreds of practical tips and Saturday projects that will keep you busy for years. What's more, it's designed to be easy to read and easy to do. They present the topics visually through diagrams, photos and comic book style stories. There is no shortage of artwork, leaving little room for confusion on "How to".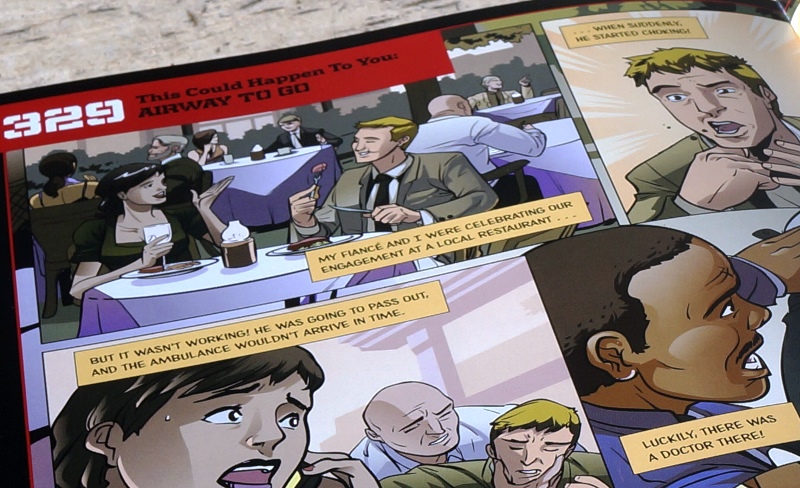 I don't know anyone that wouldn't appreciate many of the easy-to-follow tips in this book, and I'm sure all of us would find ourselves engrossed in this engaging read. While I personally think that the whole post-apocalyptic "prepper" view is over-dramatized by some in today's society (you won't find me building a bunker in the woods), and despite the fact that some of these scenarios would never happen, I still thing this is an entertaining and informative read.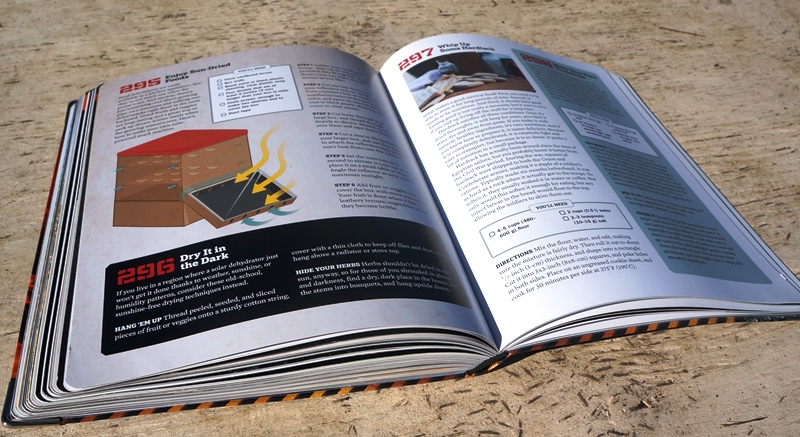 What's the book about?
There are three main topics covered:

Gear
Skills
Survival
(see full list of content at the end of the article)

Format: Instructional, using full color diagrams, comics, DIYs, etc.
Price on Amazon:
$23.90 (originally $30) – Hardcover
$22.95 – Paperback
$5.50 – Kindle
Oh, and the high gloss pages mean it would probably burn fairly well, but wouldn't serve as very good toilet paper.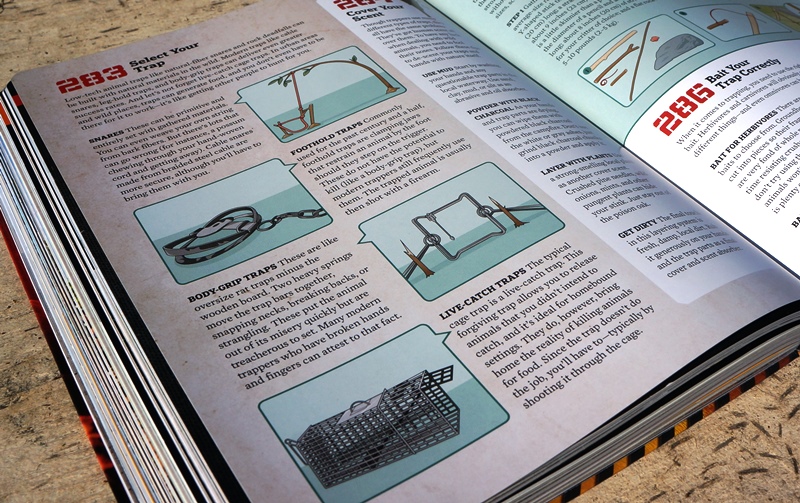 This book is ideal for the DIYer and homesteader. It's a great book to read on rainy days before you head out to try it yourself. I know there are many projects that I plan on working on this summer… NOT the emergency Tracheotomy.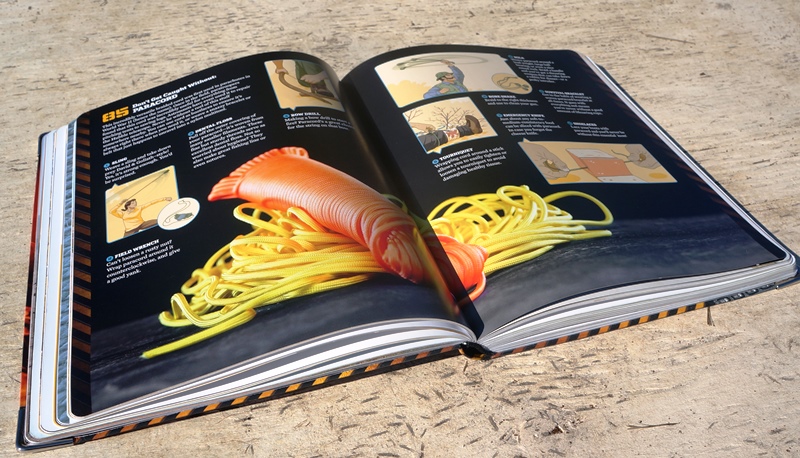 While some of the material may be familiar to outdoorsy-types, there are lots of great ideas and uses of common products that I hadn't thought of. It's great to have it all in one place too. Did I mention the knots? Knots have always been my weak point and I love the "knots to know" section.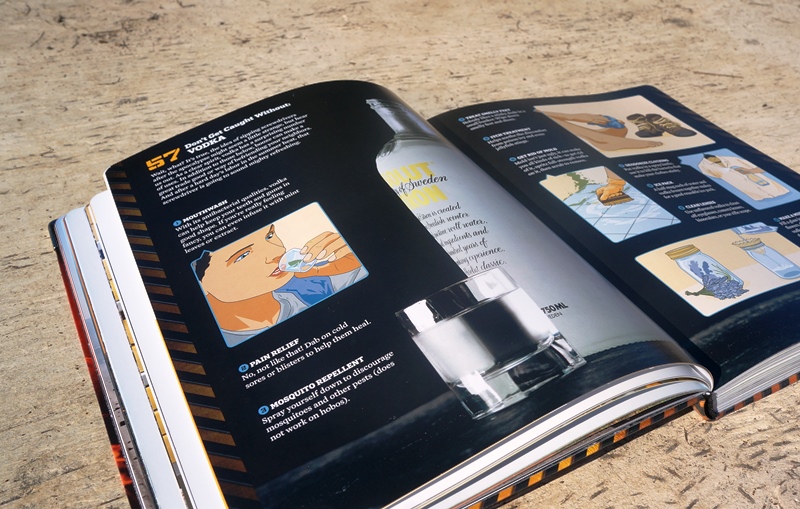 All in all, this book is a great read and an excellent resource and the ideal gift for that would be adventurer. The level of information is great for both beginners and experienced outdoors people.
Sure, you might be able to survive without the book and with only an axe and a pair of underwear, but with this book as a resource you'll probably fair much better.
Complete Table of Contents:
Understand Situational Awareness
Sharpen Your Strategy
Know the Steps
Color Code It
Know What You're Preparing For
Understand the Crisis
Get Familiar with the Scope
Learn Your Task
Create Your Family Emergency Plan
Conduct Drills
Back a BOB for Any Situation
Stock a Home Survival Kit
Pack Something Weird
Make a Fire Kit
Waterproof Your Matches
Be Fire Smart
Know Your Fire Types
Check Home Safety Basics
Stay on Comm
Know Your Region
Stock the Right Supplies
Disaster-Proof Your Home
Fool the Bad Guys
Reinforce Your Home
Don't Forget the Garage
Bar the Door for Real
Shop Smart
Start with the Basics
Power Up with Protein
Go Carb Crazy
Stash Some Little Luxuries
Pack It in PETE
Plan for the Long Haul
Don't Forget FIFO
Count Your Calories
Store Food Right
Go Cuckoo for Coconut
Sleep On It
Figure Out How Much Water
You'll Need
Be Chemical Safe
Harvest the Rain
Let the Sun Shine In
It Could Happen: Wes' Jungle Fever
Hold Your Water
Think Outside the Sink
Banish Bacteria
Pool Your Resources
Suit Up for Safety
Get Wild and Woolly
Walk Tall
Be Your Own Bootblack
Dress for the Occasion
Build Your Tool Kit
Get Creative with Your Toolbox
Rip It Up with a Hammer
Make Fire with a File
Don't Get Caught Without: Vodka
Spotlight On: Evan & Scot Hill
Meet the Hill Brothers
Get the Gear of the Hill People
Stick to Your Guns
Grab a Gun (Or Two)
Be Gun Safety Savvy
It Could Happen: Paracord Escape
Own 8 Essential Knives
Tie 7 Simple Knots
Have a Financial Plan
Shelter Your Funds
Stash Your Cash
Know the Right Amount
Understand Your Fuel Types
Know Your Color Codes
Make It Last Longer
Store Fuel Right
Determine How Much Fuel You Need
Burn This, Not That
Live on Solar Power
Get the Most from a Propane Stove
Make Recycled Briquettes
Get Ready to Get Around
Buy the Best Vehicle
Upgrade Your Ride
Charge It Yourself
Provide All the Air
Get the Tools for Your Car
Don't Get Caught Without: Paracord
Know Basic Life Skills
Revisit Home Ec
Build Your Survival Skills
Build Your First Aid Kit
Improvise Medical Supplies
Level Up
Check Vital Signs
Assess and Control Bleeding
Bandage a Wound
Disinfect a Wound
Know CPR
Treat for Shock
Set Broken Bones
Identify and Treat Burns
Perform the Heimlich Maneuver
Build a Fire in the Rain
Get the Best Materials You Can Find
Make Char Cloth
Learn the Tricks to Tinder
Don't Get Caught Without: Sardines
Know Your Water
Disinfect with UV Light
Disinfect with Boiling Water
Keep Clear
Use Your Canner to Distill Water
Build a Solar Still
Double Up
Dig Your Own Well
Get the Water Up
Make a Gypsy Well
Boil in a Bottle
Maintain Your Perimeter
Be Your Own Chimney Sweep
Keep Your Fortress in Good Shape
Stock Your Home
Plumbing Toolbox
Clean with the Basics
Start Outside, Then Bring
It All Inside
Stock Your Safe Room
Grab the Popcorn
Don't Forget Your Pets
Alert the Authorities
Board Up
Stock a P.B.O.B.
Prepare to Leave Them Behind
Train for Disaster
It Could Happen:
Rooftop Escape
Do Your Research
Pick the Right Spot
Get the Dirt
Place Your Plants
Go Urban
Take it Easy
Build a Food Wall
Grow the Right Veggies
Build a Raised Bed Garden
Feed a Family of Four
Scare Off Critters
Grow Your Own Medicine Chest
Make a Self-Watering
Container Garden
Know Fido's Risks
Spotlight On:
Rod Morey, Medicine Man
Take Charge of Your Own Wellness
Bred Rod's Favorite Remedies
Know Three Essential Herbs
Build a Backyard Chicken Farm
Raise Chicks
Get a Good Egg
Feed Free-Range Chickens
Kill a Chicken Humanely
Prepare Your Chicken
Consider Other Fowl
Include Quail in Your Homestead
Avoid Salmonella
Find the Right Feed
Raise Rabbits
Breed Rabbits the Right Way
Build a Rabbit Hutch
Raise a Cavy
Build a Barrel Abattoir
Kill Small Animals Humanely
Dress a Rabbit
Create a Conflict-Free Homestead
Don't Forget the Poop
Make Goat's-Milk Cheese
Avoid Cattle, No Bull!
Make a Canning Kit
Can in a Water Bath
Learn to Pressure-Can
Get a Lift
Yes You Can . . . Meat
Plant a Canning Garden
Follow These Golden Rules
for Pickling Produce
Jam or Jelly Your Favorite Fruits
Dry Out Your Fruits
Drop Some Acid
Spotlight On:
Rick "Hue" Hueston
Survive the End Times with Hue
Forage Hue's Top 10 Wild Foods
Cook Hue's Squirrel Stew
Make a Cardboard Box Smoker
Smoke Out Your Vegetarians
Get Fishy
Make Jerky
Brew Your Own Alcohol
Brew Mead
Craft an American Amber Ale
Make Blackberry Wine
Tie 7 Helpful Knots
Improvise a Solar Lightbulb
Make Your Own Fuel
Assemble an Oil Lamp
Make Candles
Build a Bicycle-Powered Generator
Power Up
Brew Coffee Without Power
Make Power with Water
Build a Water Turbine
Consider the Biodiesel Switch
Know Your Diesels
Make the Conversion to Bio
Get Running on French-Fry Oil
Turn the Right Oils into Fuel
Be Safe with Home Chemistry
Get the Supplies
Learn the Process
Be Biodiesel Smart
It Could Happen: Cougar Face-Off
Avoid Conflict
Throw a Power Punch
Hit the Spot
Block and Counter
Choose the Right Knife
Stand and Deliver
Get a Grip
Throw a Knife
Sharpen Your Blade
Don't Get in a Knife Fight
Make a PVC Bow
Fletch Your Own Arrows
Shoot Your Bow Properly
Don't Get Caught Without:
Duct Tape
Learn Safe Gun Handling
Stand and Shoot
Avoid Four Common
Trigger Mistakes
Drill Home Accuracy
Build Your Own Blowgun
Use What's Close
Chart Your Survival Priorities
Assess and Respond to Emergency
Survive Anything
Obey the Rule of Threes
Develop an Attitude
Decide Whether to Stay
Ask for—and Give—Help
Share Your Skills
Plan Your Bug-Out Camp Supplies
Embrace the Plastic
Create Order with Areas
Make Camp Life Easier
Signal Your Rescue
Turn On the Radio
Use a Survival Mirror
Don't Get Caught Without:
Space Blankets
Understand Major Blackouts
Create Flare Contingencies
Don't Panic After a Pulse
Laugh in the Face of Darkness
Employ People Power
Understand EMP Danger
Protect Electronics with
a Faraday Cage
Charge a Cell Phone in a Blackout
Hack Your C-Cell
Be Ready for Storms
Prepare for Hurricanes and Cyclones
Fight Back Against Flooding
Find a Quake-Safe Spot
It Could Happen: Natural Disaster
Get Ready for a Fall
Stock Up for the Crash
Build a Team
Hail the New Chief
Understand the Real Threat
Choose the Right Leader
Don't Screw It Up
Lead like the Great Ones
Spot a Sociopath
Pick a Compound
Remember the Basic Tenets
Build a Defensive Perimeter
Create Observation Posts
Build a Basement Bunker
Make a Bucket Bathroom
Create Layers of Security
Keep It Breathable
Have Some Comms Handy
Keep It Dry
Spotlight On: Kirk Lombard
Catch a Weird Fish
Poke Pole for Eels
Follow Kirk's Foraging Tips
Select Your Trap
Cover Your Scent
Build a Deadfall
Bait Your Trap Correctly
Know Your Neighborhood (Animals)
Bag a Backyard Buck
Break the Law (If You Must)
Hunt Better with Bait
Catch Live Critters
Tan Your Hides
Use Your Brain
Smoke Tanned Hides
Enjoy Sun-Dried Foods
Dry It in the Dark
Whip Up Some Hardtack
Make Your Own Pemmican
Make a Good Trade
Get Your Balance
Spotlight On:
R.P. MacWelch, Tim's Dad
Survive Like Dad
Learn an Art
Develop New Skills
Spark It Up
Make Fire from Rocks
Build a Fire Like a Pro
Use a Fire Plow
Make Charcoal from Firewood
Mix Your Own Gunpowder
Build Your Own Backyard Forge
Forge Your Own Knife
Heat with the Sun
Warm Up Safely
Use Bricks and Stones to
Heat Your Home
Consider These Heaters
Master Six Advanced Knots
Don't Get Caught Without: Beer
Multitask Your Meds
Stockpile Essential Meds
Repurpose Street Drugs
Deliver a Baby
Use an EpiPen
Apply a Tourniquet
Don't Try This at Home
Save a Toe (or Finger, or More)
Save an Eye
Don't Spill Your Guts
Open an Airway
It Could Happen:
Tracheotomy To Go
Survive a Gunshot Wound
Take Care of an Impaled Victim
Decompress a Chest Wound
Suture a Wound
Survive with Nothing
Know Your Lines of Shelter
Scrounge for Nourishment
Diagnose and Treat Ailments