This winter our man-on-the-ground Joshua Riggins packed his schedule full trying to dig up as many impressive new products at the Winter Market of the Outdoor Retailer Show as possible. Over the next few days, he'll be sharing some of those highlights Today we're looking at Aime's new Jigabot.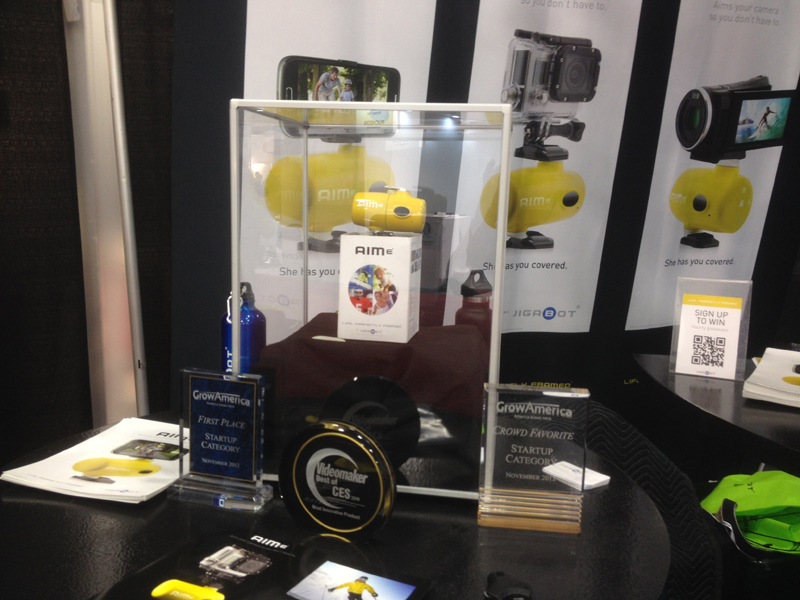 One of the newest products from a company I was previously unfamiliar with, is the AIME by JIGABOT. A light weight (under 1 lb.), water-resistant, robotic gadget that is said to be durable, and operates hands free. You place a beacon somewhere on your person, and the AIMe directs your camera to follow its target. The best part is, the AIMe can follow more than one beacon. With a rechargeable battery, and mounts compatible with GoPro, smartphones & other cameras/camcorders. As someone who loves action sports, hiking, canyoneering and life in general, I unable to express how syked I am on this product. This could revolutionize youtube videos.
Range 150 feet
Battery Life – 2 hours
Weight: 9.5 oz (1 oz for beacon)
MSRP: $299
Available June 2014
About Joshua Riggins:
My name is Joshua Riggins. I'm a regular guy that lives in SLC, Utah. I have a job, a house and 2 awesome boys – Kemry 15 & Caelan 12. When I was 16 I started rock climbing and have been doing it off and on for the past 20 years. My love for everything outdoors is beyond comparison. I am what one might call a Renaissance Man when it comes to the outdoor life. Meaning, I do a little of everything. As with climbing, I enjoy Snowboarding, Hiking, Canyoneering, Mountain Biking and Camping. I recently got into back country touring and I'm looking at getting into Kayaking. I grew up with a love for the mountains, the earth and just getting outside. But recently discovered the desert and how amazing slot canyons can be.
This basically an account of my adventures and good times. With hopes of inspiring others to get outdoors, trying stuff and connect with the earth. I want to be an awakening for others to learn to live again. Illuminating the thought in their minds that they to can enjoy the travel and adventures I take pleasure in. To visually motivate people through picture and video. To follow my adventures, checkout my Instagram @JoshuaRiggins and Twitter 
https://twitter.com/JoshuaRiggins