On my first backpacking trip, I was introduced to something called beaver fever (or giardia). I remember a friend's dad pulling out a mess of hoses and filters and a pump… and then sitting around, taking turns to filter water for a group of about twenty people. It took a long time, but there wasn't much alternative. We didn't get sick, but we didn't want to ruin our trip by suffering from intestinal problems in the backcountry.
Water-born parasites are all too common in lakes and streams, especially in areas with lots of people, wildlife and/or cattle.
In fact, you don't even have to head into the backcountry to need a backup method for water purification. At least twice a year we have boil-water advisories in our town, due to runoff from the snow and rain.
Check out these quick reviews of some Potable Aqua products and then enter to win a Coleman cooler filled with supplies for your summer outdoor activities.
Portable Aqua Ambassador
I spend as much time in the backcountry as I can, so water purification is common practice. On the John Muir Trail, I had to purify gallons of water every day. That regular need for reliable water purification was the reason I accepted when I was asked to be a brand ambassador for Potable Aqua.
Potable Aqua is a trusted name in water purification. Their product line offers several options for water purification including Iodine tablets, Chlorine Dioxide tablets and very soon a tiny, portable electrolytic water purifier "PURE".
Here's a quick look at what I've received so far: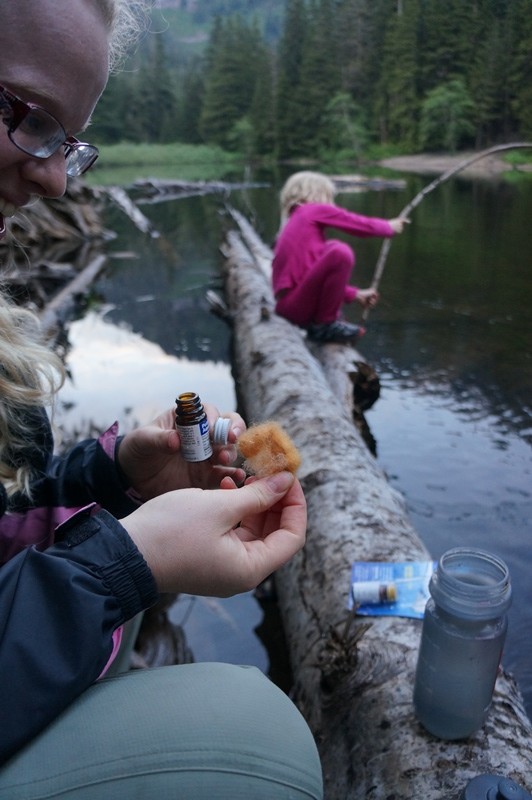 Potable Aqua Water Purification Tablets
Potable Aqua® Drinking Water Germicidal Tablets & Potable Aqua Plus
These tablets are a standby product great for purifying your water from Giardia. Potable aqua tablets are used and proved by military and emergency organizations.
How do they work?
They use Iodine to kill off bacteria like Giardia, that can cause serious problems. Two tablets treat a liter of water in 35 minutes.
Iodine Tablets
Iodine is a reliable short-term solution for water purification. They're suited for emergency kits at home, on the trail, in a boat or in the car. The small bottle of tablets is perfect for long-term storage and they have a shelf life of 4 years.
These tablets are designed to handle even cloudy, cold or extreme pH levels in water, meaning they're a very reliable solution.
Neutralizer
Potable Aqua Plus contains a neutralizer that can remove the iodine taste and colour from the water if that bothers you.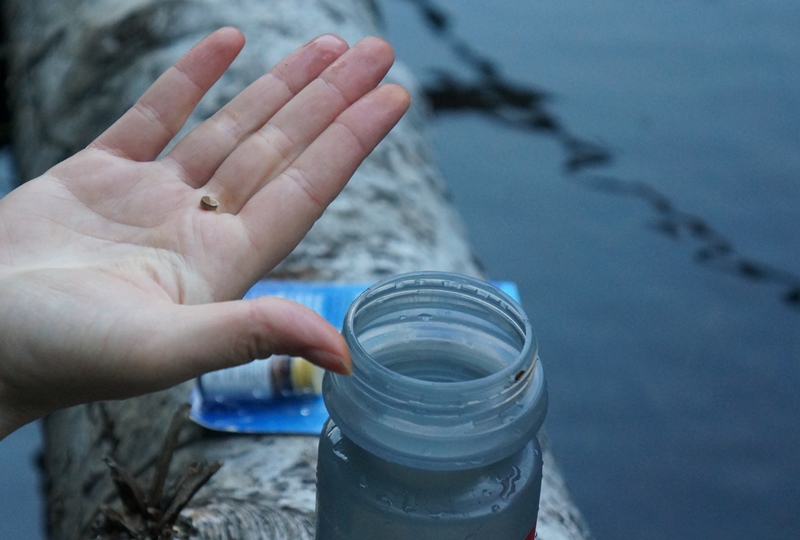 What we think:
Chemical tablets aren't everyone's first choice, but Potable Aqua and Potable Aqua Plus are a proven method to get clean, bacteria free drinking water. The 35 minute purifying time can be worked around with a bit of planning. We like to drink our remaining water at the water source, fill up, drop in the chemicals and then hit the trail.
Both of these products work swimmingly when used as directed and they really are simple to use. If you're looking to go lightweight in backpacking, or need something compact and small to put into your emergency kits for home, fishing, camping or in the car, these water purification tablets are perfectly suited for your needs.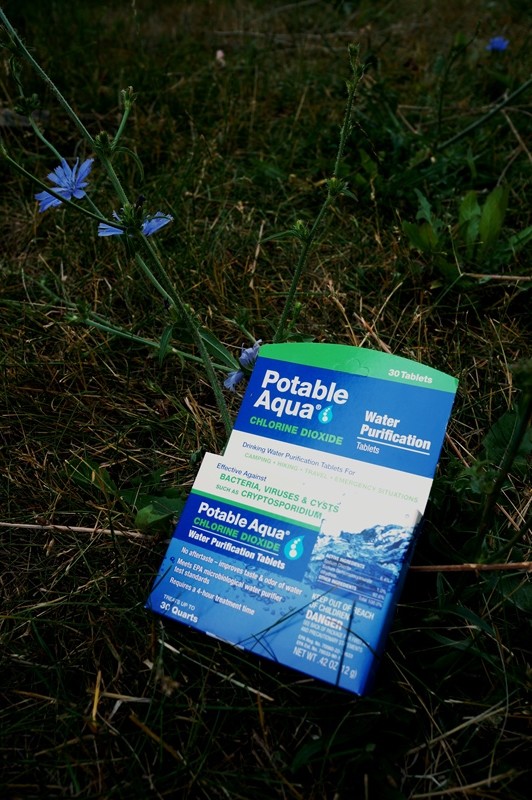 Potable Aqua® Chlorine Dioxide Tablets
I'm no stranger to Chlorine Dioxide. I used it to purify all my water for the 221 mile John Muir Trail. Chlorine Dioxide has the benefit of not only handling Giardia, but a wide variety of other bacteria and cysts (like Cryptosporidium) without generating harmful bi-products.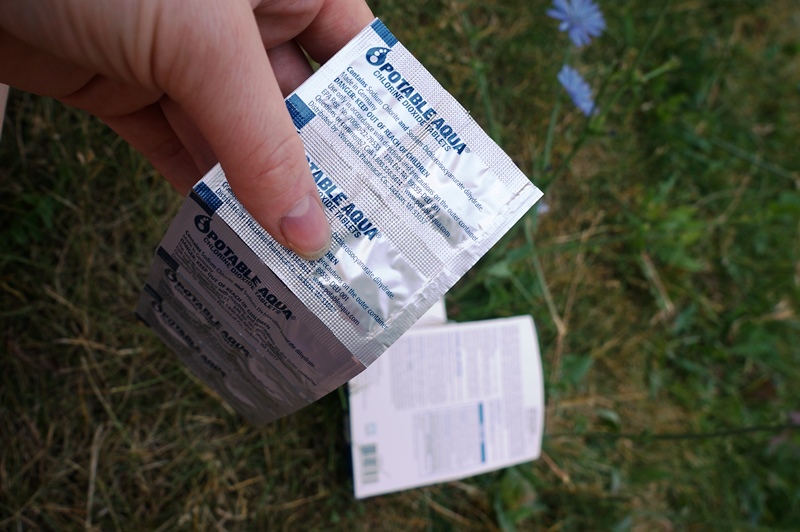 Chlorine Dioxide
Chlorine Dioxide is very commonly used; it's even used in the treatment of water at community water treatment facilities.
The tablets are easy to use, and the boxes come in 20 and 30 tablet blister packs. 1 tablet treats 1 liter of water.
To be completely effective, the packaging recommends that you wait 4 hours for water to be completely purified. This is to take into account cloudy water, etc. It's a long time, but a more effective choice than Iodine where water is even more questionable.
What we thought:
I like to use Chlorine Dioxide when backpacking. Typically I'll finish off my water at a water source and refill while there. The tablets can be dropped in my water containers and I can resume hiking. If my water is clear, and not too questionable I don't wait the 4 hours recommended unless the water is really questionable.
That said, the tablet form of Chlorine dioxide, with its 4 year shelf life is best suited for emergency situations.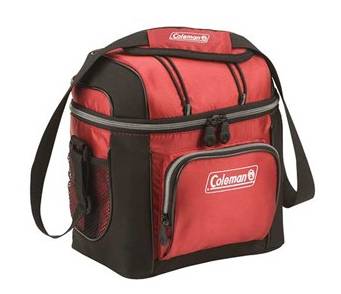 Win a Cooler full of outdoors goodies!
Do you live in the US or Canada and want to win a cooler of Coleman and Potable Aqua gear? Check out these items and enter using the Rafflecopter widget:
a Rafflecopter giveaway