Is there anything better than chocolate when on an outdoor adventure?… besides bacon I mean. Well we had the chance to try so samples of some of the best chocolate I've tasted in a long time. Delicious dark chocolate with just the right amount of salt that comes in a variety of flavours. We are hooked on the quality and flavour: not too sweet, not too salty, just delicious.
We were sent the Trail Series of bars – carefully tailored for the outdoor adventurer.
What is Salazon?
Salazon is organic, fair trade dark chocolate sourced out of the Dominican Republic that has been salted with solar-evaporated sea salt.
What is the Trail Series?
The Trail Series is 3 different 2.75 ounce salted dark chocolate bars. Each supports one of three different scenic trails in the USA: The Continental Divide Trail, the Pacific Crest Trail and the Appalachian Trail. They do so by donating 2% of their gross sales to the different trail associations.
We received two of each:
57% Organic Dark Chocolate with Sea Salt & Caramel – Certified Organic and made with Rainforest Alliance Certified cocoa beans
57% Organic Dark Chocolate with Sea Salt & Coffee – Certified Organic and made with Rainforest Alliance Certified cocoa beans
72% Dark Chocolate with Sea Salt & Almond – made with Certified Organic chocolate and Fair Trade Certified cocoa beans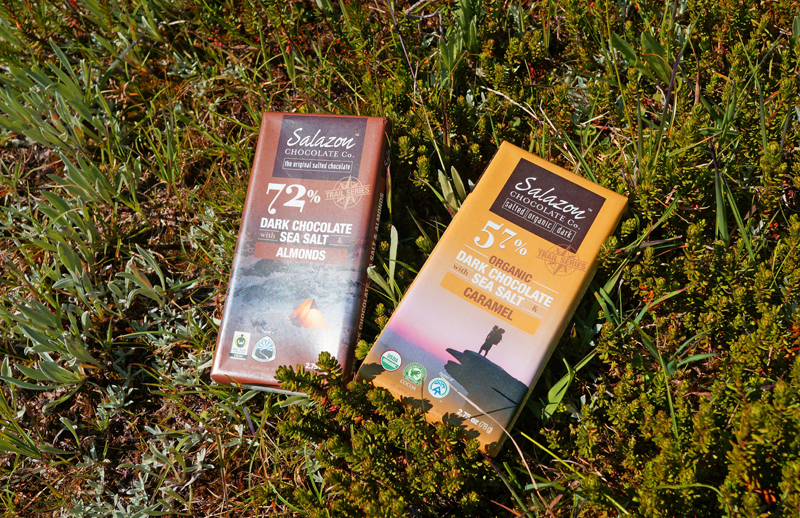 Salazon has partnered with the Appalachian Trail Conservancy for its Caramel bar, the Pacific Crest Trail Association for its Coffee bar, and the Continental Divide Trail Coalition for its Almond bar. The packaging for each bar depicts actual scenery captured on the trails.
The bars themselves are pretty awesome to stare at too. They cry world explorer with their eclectic map.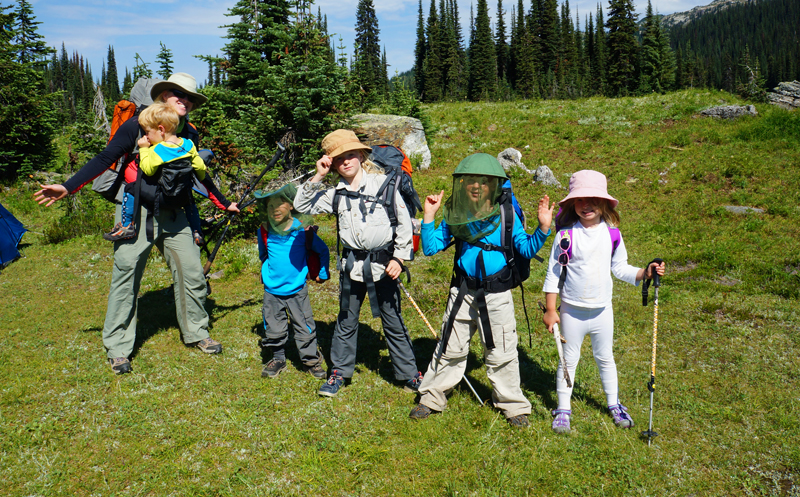 The bars were shared between our explorers (junior and adult). We tried to be fair to them and to you by trying them at home, before the trip as well as on the trail.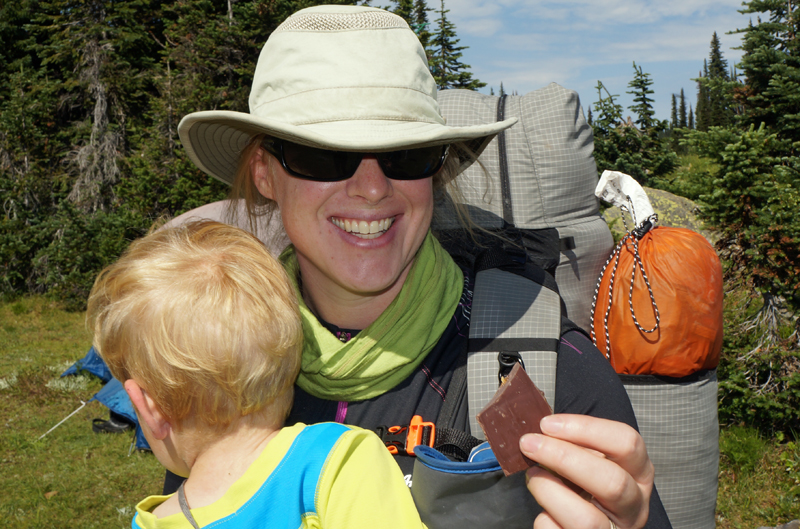 What did we think?
Fantastic! These were all incredibly delicious!
The Salted Caramel had just the right level of Caramel. There are nice sized pockets of soft caramel that weren't too sweet or overpowering. They complimented the dark chocolate very well, without making it taste artificial.
The Salted Coffee was the same. There was an excellent balance of flavours here.
The Salted Almond bar is a much higher cocoa content (72% instead of the 57% of the other two bars) and it was a good choice. It's more savoury than the other two. The almond pieces, like the caramel are distributed well and add a refreshing crunch to the bar.
Due to the higher cocoa content, we didn't have problems with melting. Well, there was one exception to that. One of the bars was carried against someone's back in their backpack. The result was a bit deformed, but it in no-way took away from the deliciousness of the bar.
Conclusion
You won't go wrong with these delicious salted dark chocolate bars. They are delicious and refreshing as a trail snack, or even as a late night snack at home when the kids have gone to bed. On top of being delicious, organic and fair trade (as well as being part of the Rainforest Alliance), 2 percent of the gross sales of these bars is donated to the support of  the Triple Crown of American Scenic Trails. You're enjoying fantastic quality chocolate and you're helping to keep these amazing trails open and enjoyable for future generations.
At $4 MSRP (Less if you buy more), these bars are more expensive than energy bars, but a fair price for the high quality chocolate that you're purchasing.
I strongly recommend keeping your eye out for these bars and definitely recommend you give them a try!