The Talus 3 is a tent that can take abuse , protect you from the elements and is still packable enough to take on your backpacking trip.
Live Out There contacted us, asking us for our honest opinions of this tent by The North Face and we are happy to do so.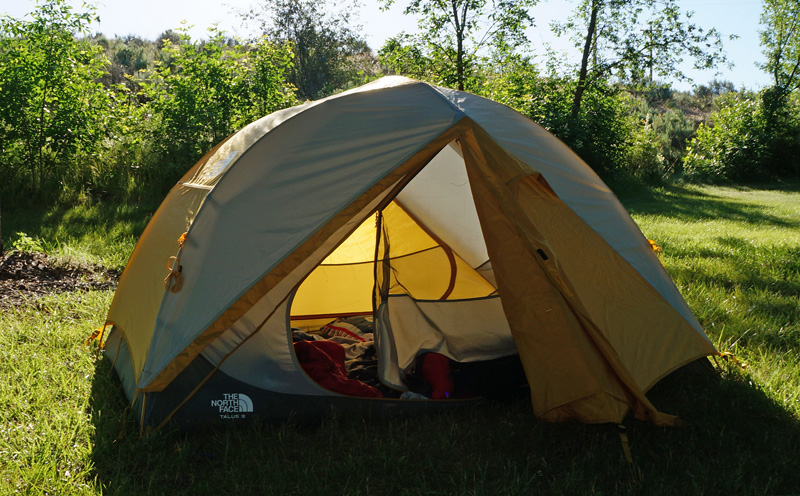 Let's take a look at the features and then break into our review:
Features
Dimensions

Floor area – 38.94 sqft
Vestibule area – (9.27 sqft per)
Height – 46"
Packed size – 8" x 23"

Features:

3-person
Dual Vestibule
Dual Door
Gear Loft
Ground Cloth
Ventilation
DAC Shepherd's Crook tent stakes
guylines

Materials

Rainfly – 75D Polyester with 1200 mm PU coating
Canopy (inner tent) – 68D polyester
Floor – 70D nylon with a 3000 mm PU coating
DAC featherlight NSL poles

Weight

Trail weight – 5 lbs 6.7 oz
Fastpack Weight – 3 lbs 12.6 oz (Ground cloth, poles and rainfly)
Total

MSRP: $329 – $269 on Live Out There . Com
That's a lot of detail, so let's get into it.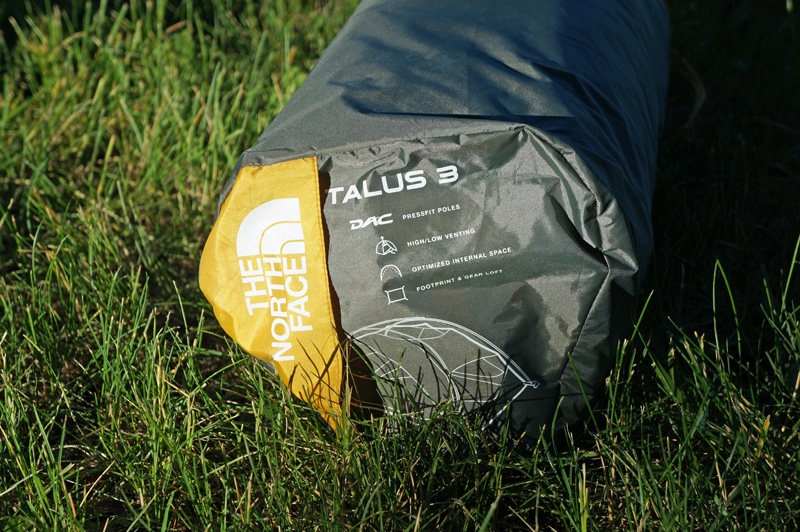 Let's start with the big questions: Weight and packability. The Talus 3 is marketed as a cross over tent – light enough for backpacking, but durable enough for car camping. Ultralight tents tend to use the lightest, most modern fabrics and a smaller floor are, which means a much higher cost and less durability. Car Camping tents tend to use more economical fabrics, have more space, take up a lot of space when packed and weigh a LOT. The Talus 3 bridges that gap, while leaning more to the lightweight scale – a 3-person tent that weighs 5 lbs 7 oz and packs down to an 8" x 23" tube… smaller if you have experience packing it, and lighter if you leave the ground cloth behind.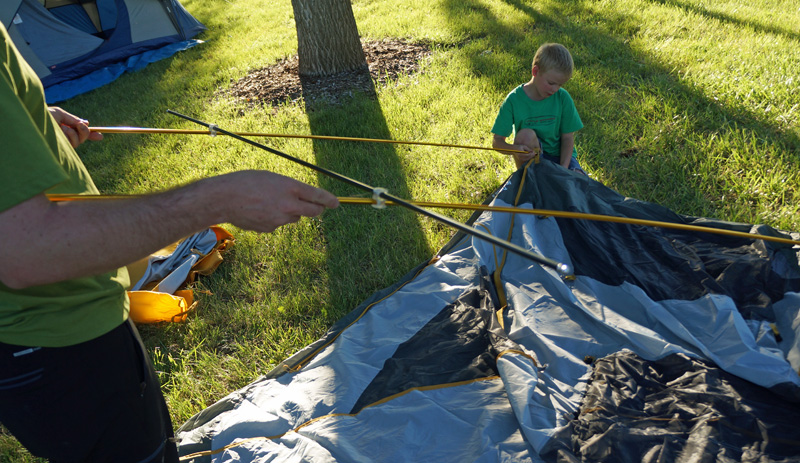 The Tent offers 3 configurations:
Using all components (ground cloth, tent, poles and rainfly)
Using the tent, poles and rainfly
Using just the ground cloth, poles and rainfly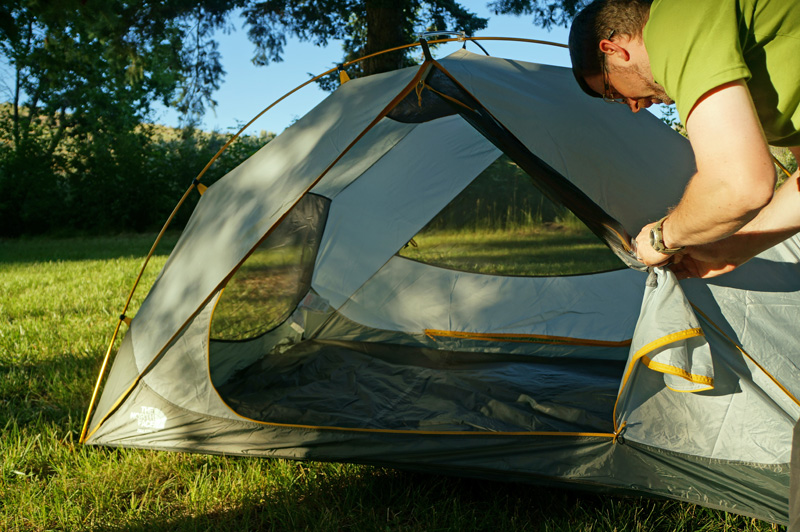 The lightest option is ideal for fast backpacking trips (3 lbs 12.6 oz), while the full setup with ground cloth is fantastic for car camping where camp ground gravel can beat up your floor.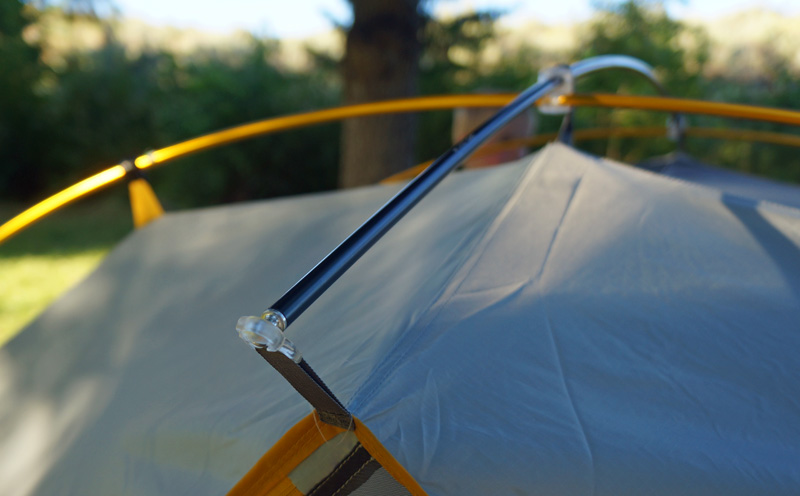 The Talus 3 opts for Polyester for the rainfly and canopy. This fabric is more durable than siliconized nylon and also holds up better to rain and sunshine. Sil nylon tends to sag when wet and it is not recommended that sil nylon tents are left setup during the day time due to the effect of the sun on them. We are happy throwing a handful of kids in this tent and letting them wrestle and play in it – whereas our ultralight sil nylon tent has a "no playing policy".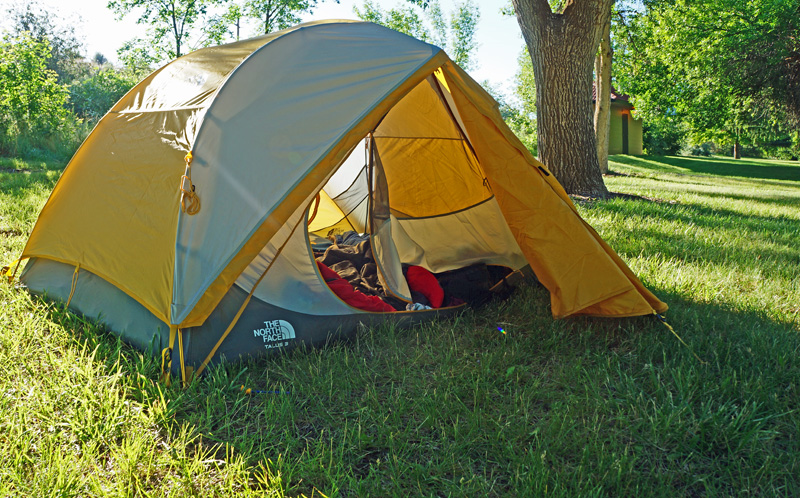 To save weight, the Talus 3 has a typical backpacking tent sized floor (39 square feet) and backpacking tent height (46" at the peak). The tent can fit 3 adults side by side with gear stored in the amply sized dual vestibules, or 4-5 kids facing the other way, with their gear stored inside the tent.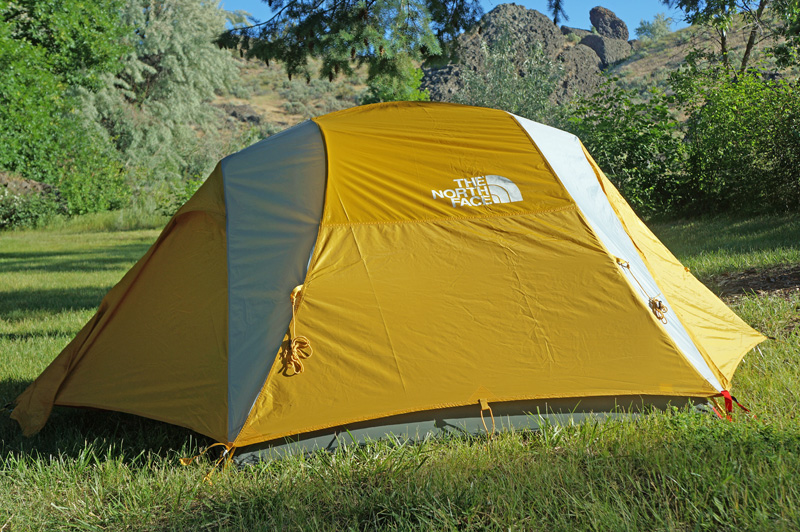 Dual vestibules offer great access for entry and exit, especially if all your gear is kept in one vestibule and provide enough space for footwear and typical backpacking kit. The gear loft and pockets will hold all the gear you'll want on hand (watches, phones, headlamps, meds, etc).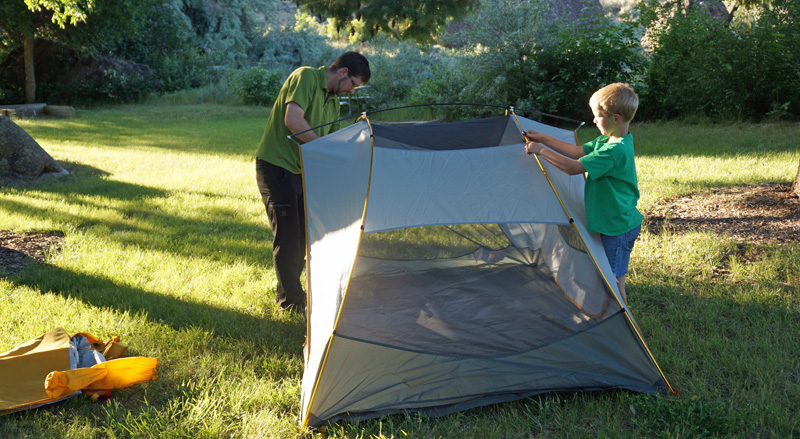 This tent is fantastically simple to setup. My 8 year old can set this up easily. The design has all poles connected, so there's no confusion of which pole goes where (a common problem with lower priced, car camping style tents).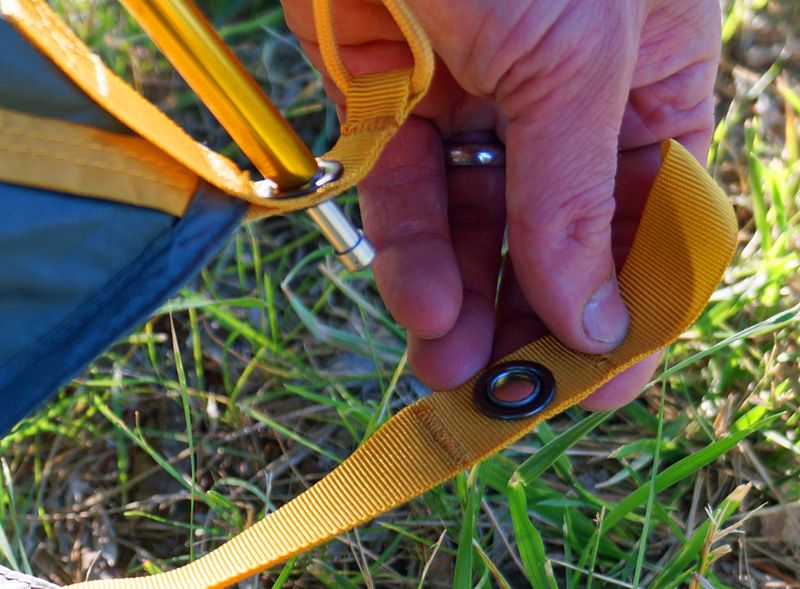 The attachment system is easy and intuitive, and once setup offers a solid, tensioned tent. Poles are DAC (anodized aluminum) a high quality, lightweight aluminum that is the standard for high quality tents.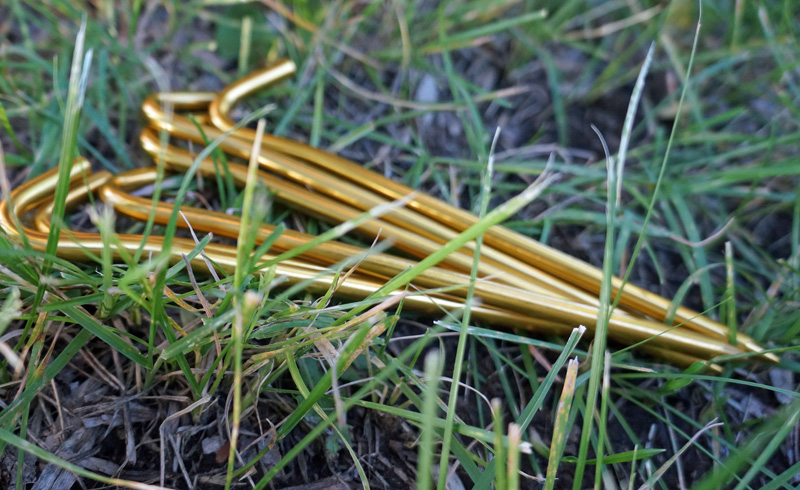 The North Face opted for heavier duty DAC shepherd's crook poles for stakes. They're stronger and less likely to bend than the typical stakes that are included in backpacking tents. I'm guessing this choice was for the compacted ground found at car camping campsites.
The full sized rainfly stakes down tightly and includes extra guylines to setup during a storm. The Talus 3 doesn't come with enough stakes to setup the tent, rainfly and guylines, but the tent sets up so well without them that you'd only need them during a pretty strong storm. You can also remove the stakes used to stake down the inner tent to attach the guylines.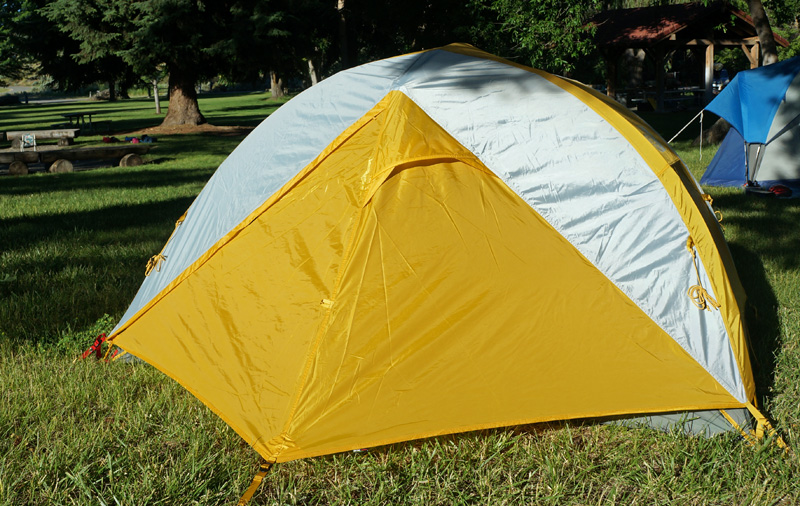 One challenge tent designer's face is ventilation. A full size rainfly is great for keeping rain out, but it can inhibit airflow needed to remove moisture from breathing – the moisture that builds up on the inside of your tent walls. Even when we tested this with 4 boys on a hot, Eastern Washington weekend, it held up to the test. In the morning, even with no breeze, there were no problems with moisture. The rainfly has two vents that seem to do the trick. If you were to stake out the guy lines, ventilation is even more improved.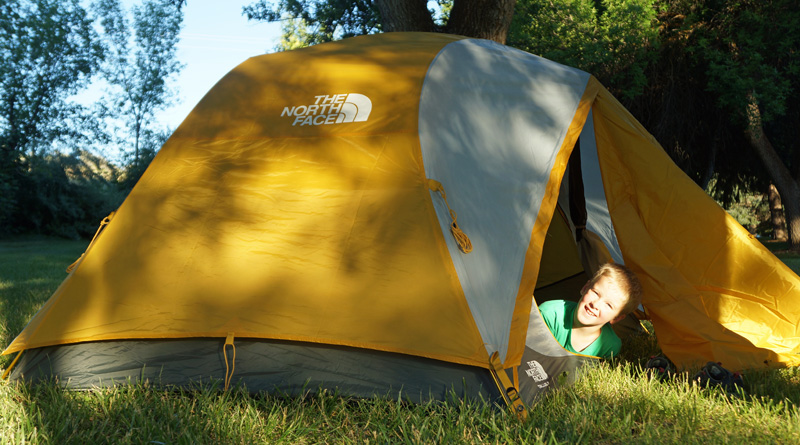 Conclusion
The Talus 3 is a solid tent that we intend to use a lot this summer. The durability, weight and packability make it ideal for canoeing, car camping and even backpacking. 5 lbs 7 oz is not in the ultralight range, but isn't overly heavy, especially if you divide the tent components between 3 people. When using the Fastpacking option (just over 3.5 lbs) you'll be cruising. What ties it together is the price. For $329 ($269 on live other there) you're getting North Face quality and reliability and at a very respectable weight.
If you're looking for one tent to handle all your outdoor adventures, the North Face Talus 3 should be high on the list of prospects.